The blue dots show the places where we have stayed overnight, the numbers correspond with the numbers of the days in the journal. Click the map for a large version.
Die blauen Punkte sind Orte, an denen wir übernachtet haben. Die Nummern geben die Nummer des jeweiligen Reisetages an. Ein Klick auf die Karte führt zu einer größeren Version.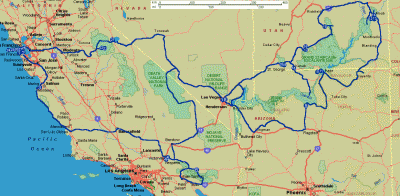 The map was composed from 16 smaller maps provided by Expedia using Adobe Photoshop 4.0.
Die Karte wurde mit Hilfe von Adobe Photoshop 4.0 aus 16 kleineren Karten von Expedia zusammengestellt.
---
English Version
1 | 2 | 3 | 4 | 5 | 6 | 7 | 8 | 9 | 10 | 11 | 12 | 13 | 14 | 15 | 16 | 17 | 18 | 19 | 20 | 21 | 22 | 23 | 24 | 25 | 26 | 27 | 28 | 29 | 30
---
Deutsche Version
1 | 2 | 3 | 4 | 5 | 6 | 7 | 8 | 9 | 10 | 11 | 12 | 13 | 14 | 15 | 16 | 17 | 18 | 19 | 20 | 21 | 22 | 23 | 24 | 25 | 26 | 27 | 28 | 29 | 30