Donnerstag, 9. September 1999
Wir standen um sieben auf und verließen Las Vegas in Richtung Lake Mead und fuhren am nördlichen Seeufer entlang. In Callville Bay und Overton Beach stoppten wir jeweils kurz, aber hielten uns nicht lange auf, denn das Ziel des Tages war der Valley of Fire State Park.

Das "Tal des Feuers" trägt seinen Namen zu recht – schon von weitem kann man die roten Felsen zwischen den gelb-grauen Bergen sehen. Schon vor dem eigentlichen Park bekamen wir einen kleinen Vorgeschmack: Ein kleiner Pfad führte um die Red Stones herum.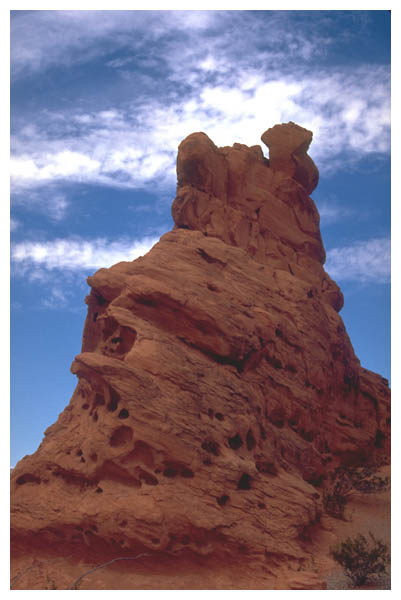 Im Park gibt es die phantastischsten Felsformationen, zum Beispiel auch einen Schneemann!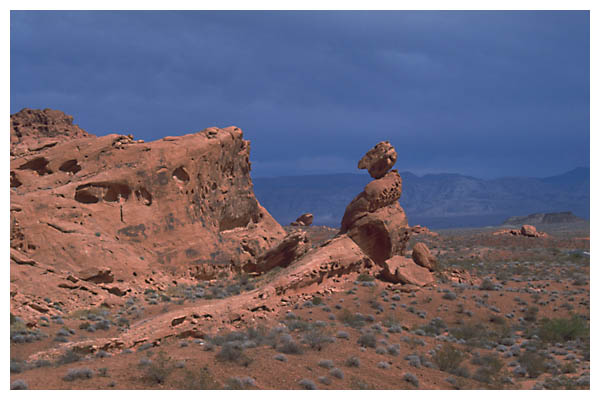 Mir gefiel die Scenic Loop Road am besten. Die Straße war sehr schmal, und einige Male wunderten wir uns über die Wohnmobile, die es irgendwie schafften, nirgends steckenzubleiben. Hier waren die Felsen nicht nur rot, sondern hatten verschiedene Farben – so bunt wie die Artist's Pallette im Death Valley.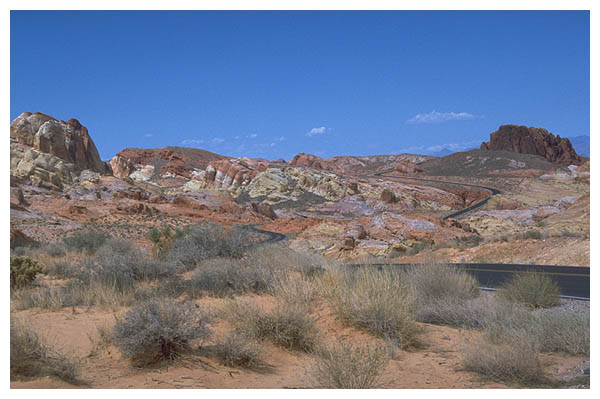 Auf diesem Abschnitt der "Scenic Loop" schlängelte sich die Straße ausnahmsweise einmal nicht zwischen Felsen hindurch.
Das Valley of Fire ist auch für seine Petroglyphen bekannt, alte Zeichnungen, die in Stein geritzt wurden. Diese sind am Atlatl Rock zu bewundern, wo extra eine Treppe an die Felswand gebaut wurde. Die Petroglyphen selbst sind durch eine Plexiglasscheibe vor den Touristen geschützt, was allerdings nicht viel zu helfen scheint: Zwischen den alten Zeichnungen findet man leider auch jede Menge sehr modernen Ritzungen…
Am späten Nachmittag waren wir wieder in Las Vegas und besuchten zuerst das neueste der Hotels: das Venetian, auf deutsch "Das Venezianische" Dort gibt es im ersten Stock einen original venezianischen Kanal mit Gondeln und allem Drum und Dran: Rialtobrücke, Markusplatz. Rundherum sind kleine Gassen mit teuren Geschäften und ein Marktplatz, auf dem italienische Opernarien aufgeführt wurden. Das ganze wird von einem künstlichen Himmel gekrönt. Im Gegensatz zu Cesar's Palace ist im Venetian immer dieselbe Tageszeit wie draußen in Las Vegas.
Unser Hotel für diese Nacht lag direkt neben dem Circus Circus und wir starteten von dort auf eine Tour des "Strip" in südlicher Richtung.

Vor dem Treasure Island wurden wir Augenzeugen von der Versenkung eines Piratenschiffs, und vor dem Mirage ("Zuhause" von Siegfried & Roy) beobachteten wir den Vulkanausbruch.

Dann ging's weiter zu Cesar's Palace. Rollbänder wie im Flughafen brachten einen direkt ins Hotelcasino, aber wir gingen weiter zu den Forum Shops. In Rom war es später Nachmittag, als wir ankamen, und während unseres Abendessens ging die Sonne unter und wieder auf!
Vor dem Bellagio bewunderten wir die Wasserspiele zu Musik… schön! Und nicht so kitschig wie der Rest von Las Vegas.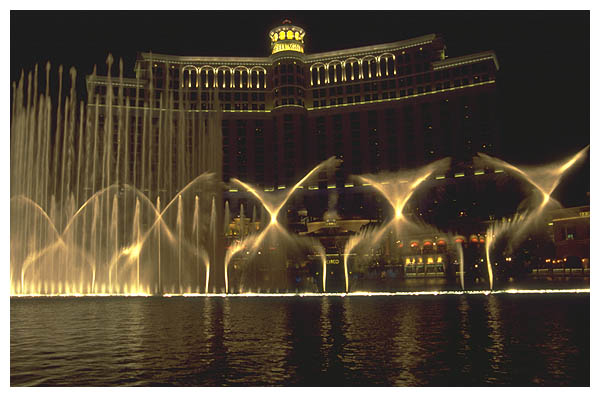 Weiter ging's am New York New York und dem Excalibur vorbei bis zum Luxor. Als wir dort ankamen, war es schon Mitternacht, und so drehten wir um und gingen zurück zu unserem Hotel. Aber der Weg sah auf dem Stadtplan nicht so lang aus wie er war – wir waren erst nach eineinhalb Stunden da…
---
Zurück | Weiter

Index | Kamera | Reiseroute
1 | 2 | 3 | 4 | 5 | 6 | 7 | 8 | 9 | 10 | 11 | 12 | 13 | 14 | 15 | 16 | 17 | 18 | 19 | 20 | 21 | 22 | 23 | 24 | 25 | 26 | 27 | 28 | 29 | 30