Dienstag, 28. September 1999
Nach dem Frühstück gingen wir zum Union Square und nahmen die Buslinie 30 zum Palace of Fine Arts. Gegen Mittag kamen wir am Exploratorium an, wo wir ungefähr vier Stunden verbrachten. Meiner Meinung nach ist das ein großartiges Museum! Es gibt so viele Experimente, und man darf alles anfassen. Da gibt es Hebel zu ziehen, Knöpfe zu drücken, alles mögliche auszuprobieren… das macht nicht nur Kindern Spaß!



Besonders gefielen mir die künstlichen Geysire, die je nach Länge des Rohres in der Mitte alle vier oder acht Minuten ausbrachen, und der Raum mit der optischen Täuschung, in dem man an einem Ende ganz klein und am anderen ganz gorß aussieht. Schade, daß man die Täuschung dort nicht fotografieren kann; zu gerne hätte ich mal ein Foto gehabt, auf dem ich größer als André aussehe…

Um vier verließen wir das Exploratorium und gingen auf dem Rückweg zur Bushaltestelle noch an der Rotunde des Palace of Fine Arts vorbei. Man durfte sie allerdings nicht betreten, da sie innen gerade renoviert wurde.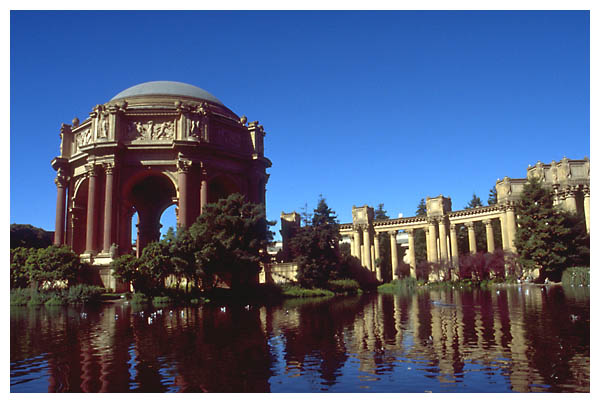 Dann gingen wir zum Hotel zurück, da André sich nicht wohlfühlte. Ich zog noch einmal alleine los und kaufte einige Bücher. Man muß ja die günstige Gelegenheit nutzen, um englischsprachige Originalausgaben mitzunehmen.
Am Abend gingen wir noch ein Eis essen, aber wegen Andrés aufziehender Grippe unternahmen wir sonst nichts mehr.
---
Zurück | Weiter

Index | Kamera | Reiseroute
1 | 2 | 3 | 4 | 5 | 6 | 7 | 8 | 9 | 10 | 11 | 12 | 13 | 14 | 15 | 16 | 17 | 18 | 19 | 20 | 21 | 22 | 23 | 24 | 25 | 26 | 27 | 28 | 29 | 30