Lost a sock?
"Where do all those lost socks go? Sock-eating dryers? Alien abduction? Runaway socks hitting the road and living on the streets? – Look in your sock drawer and drag out those socks for which you've lost the match. In all likelihood, your socks have ended up in…

The Land of Lost Socks"
The Coke is evil discussion continues…
Banana Bread

Rick Saenz teases me again with pictures of his daughter baking banana bread. It looks delicious!

Not long ago, I had to save a bunch of bananas from getting brown and not being eaten, so I made banana bread of them. Here's my recipe.
All this food talk makes me hungry. I think it's time for dinner! We're having Sauerkraut-Auflauf today. (I think Auflauf is casserole in English.) No, it's not a typical German recipe, but Hungarian. André made it, so I'm sure it will be very good! Guten Appetit!
Africa

Craig says he wants to go to Africa one day, and links to The Africa Guide. It has, among lots of interesting information, great photo galleries with an overview page with thumbnails. Choose between wildlife, places and scenery and people.
Another great source is African Vacation, which seems to be about Kenya only, but is a good resource nevertheless. Africa Online also has a section on travel in Kenya.
The Great Outdoor Recreation Pages have info on adventure travels all over the world, including Africa.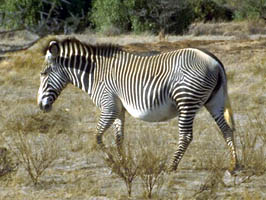 In 1995, I spent four weeks in Kenya and Tanzania. In Kenya, I went on a seven-day safari and visited the Masai Mara (see also here), the Northern extension of the famous Serengeti, Lake Nakuru (another page) and Samburu National Parks and saw all kinds of wildlife, from Dik Diks to leopards. (The Kenya Wildlife Service has a website, too.) In Tanzania, I visited the Ngorongoro Crater (picture gallery), Lake Manyara (see also here) and Tarangire (see also here) National Parks. In the Masai Mara I've seen the migration of thousands and thousands of zebras and wildebeest, and have been a fan of zebras ever since. The photo shows a Grevy zebra and was taken in Samburu on September 10th, 1995.
Here's a site on Kenyan History and one about regional museums in Kenya.
I have about 500 slides from the trip, so I guess one day, when I have a lot of time to spare, I'm going to get a PhotoCD made and post some of the photos here…