One more picture for today… I played around with PhotoShop.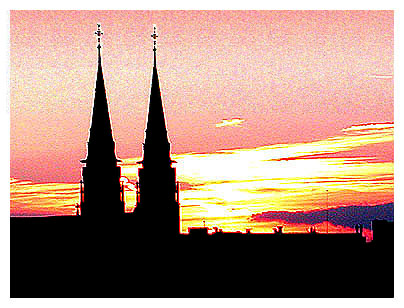 Just a thought?!

Garret had an idea:
andrea has shots of the rhine. susan has sunsets. this gives me an idea … we ought to all get together, agree on a day, and do a '24 hours in the life of manila weblogs' or something like that. share via photos where we live, what we do. ah, just a thought.
I'd say this is a great idea! Let's do it!
I rode my bike to the river Rhine today…

… and took a few photos. Enjoy! Click on any image to see a larger version.

By the way, Susan has great sunset pictures, too. (Scroll all the way down.)
British and American English

The Best of British – The American's guide to speaking British. No, it's not just an ad for the book, there are links to the categories (slang, people, motoring, clothing, around the House, food/drink, odds & sods) in the upper left corner.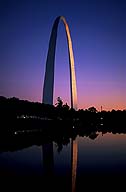 Exploring the USA

Yesterday, Craig had lots of Route 66 links on BookNotes. On this page (which has really great photos, by the way), I found pictures of the Gateway Arch at the Jefferson National Expansion Memorial in St. Louis, Missouri. They have a very interesting website with lots of information on how the arch was built and about the tram system inside the arch. You can even take a look at the mathematical equation that was used to create the catenary curve shape of the Arch.
Oh yeah, and one additional Route 66 link: Harley Farms.
"On March 18th of this year 2000 Crossen Price Clevenger began a new life. He had already purchased a large tract of land in Arizona's Painted Desert ("…a gun, and a pit bull with AIDS, too"), and sold his wood floor installation and maintenance business. On this date I had intended to help him transport his extra vehicle to the desert and get a peek at his new digs, which he has dubbed "Harley Farms." Our dad was en route to his retirement paradise.

There are volcanos out there, and a giant crater left by a meteor that crashed into the earth. Rumours of jackelopes. It was obvious my 8 year old son Sam needed to come too! Sam's uncle Craig then hopped on board; and brother Mick drove down from San Francisco on the spur of the moment too. Final brother Cory was also in town and spontaneously jumped. This made history, for our family: three generations of Clevenger men, accompanying Price via the Route 66 mother road to his well-earned misanthropic hermitage."
Yes, I (and several fellow bloggers) have linked to the site before.
Sunny and warm

Yay! The summer is back. At least, the sun has been shining for over an hour, and the forecast says it's going to be sunny tomorrow and on Monday as well. Also, we have at least 20°C (70°F).

I guess I should go outside and enjoy the weather instead of sitting at my des, pretending to work on my thesis and surfing the net instead…