Grasshopper

I found the link to this cool picture on Q. Really cool!

New Zealand, Australia, USA

Petra Eichstaedt spent eight months in these countries in 1998 and took beautiful pictures! The site is in German (Neuseeland, Australien, USA), but since it consits mainly of pictures, the language doesn't matter. Just click on one of the countries and then on the arrow to go to the next photo. They're beautiful!
Wozu die Rundfunkgebühren gut sind

In der Zeit Nr. 36 vom 31. 8. 2000: Die Quoten-Idioten – Warum ARD und ZDF die Zuschauer verachten; von Jens Jessen.

Gut, daß wir keinen Fernseher haben.

Abschied vom Erfinder von Donald Duck

Auch in der Zeit: Der Schnabel der Welt – Zum Tod des "guten Zeichners" Carl Barks; von Daniel Kothenschulte.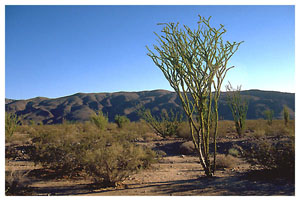 One year ago…

… André and I started on our trip to the USA! I can't believe that a whole year has passed since then.

I wish we could go again this year, but I've already started working on my thesis, and André (see yesterday) is going back to university to finish his physics diploma. That means that we will both be busy for at least the next year.
Update: I read that Hal likes the picture (click on it if you want to see a larger version of it). Yes, I actually think it's the best picture of the 800+ we took during our trip. And this picture was taken by André.

In case you want to know, I think the second best picture is either this one of the Golden Gate Bridge in San Francisco or the "angry sky" in the Painted Desert. André says he likes the sunset pictures at Mono Lake best.
Den USA-Bericht gibt es natürlich auch auf deutsch. Entweder direkt hier, oder die einzelnen Tage unter denselben URLs wie die englische Version, nur mit "/german" zwischen "/usa" und dem Tag.
Soda vs. Pop

Sheila has been assimilated by Brent, the friendly borg. She calls it "soda".