Reading

"Book reviews of literary and mainstream fiction, fantasy, science fiction and nonfiction are here at Curled Up With a Good Book. It's literary criticism that helps real readers find good books!"

Link via Sheila.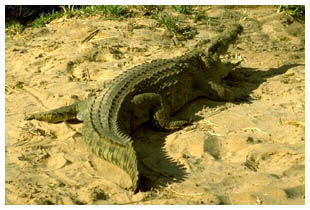 Wild animals in Germany

Salon: Police search Rhine for crocodile. Yesterday, I heard on the radio that the crocodile was last seen near Eltville, about 100 km upstream from Bonn. Reptiles don't produce their own body heat, so they are dependent on the weather. An expert said that the crocodile will likely freeze to death in the cool water of the Rhine if it is not found and rescued soon. It is probably lying on the shore as much as possible to catch some sun and stay warm. Poor thing!
The photo shows a crocodile lying on the shore of the Samburu River in Kenya. The open mouth helps it to cool off.