Ireland

Five pages of Ireland photos over at Spicy Noodles today. Go and take a look!
Karten und Luftbilder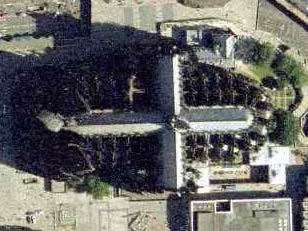 Karten und Straßenpläne von (fast) ganz Europa findet man bei Map24. Man gibt einfach eine Adresse oder eine Start- und einen Zieladresse ein und erhält den passenden Kartenausschnitt.
Wer es gern etwas fotorealistischer mag: Deutschland aus der Luft hat flächendeckende Luftbilder von über 120 deutschen Städten. Man kann nicht nur 'rein- und 'rauszoomen, sondern auch nach Straßen suchen, die Straßennamen einblenden, einen bestimmten Ausschnitt wählen, sondern auch mit der Maus Entfernungen abmessen. Der Kölner Dom, rechts im Bild, ist übrigens über 100 m lang und 75 m breit!

Und weil wir alle wissen, daß Mallorca das heimliche siebzehnte Bundesland ist, gibt's auch die Balearen aus der Luft.

Links via Imke.