Sail Training

The Economist: Tall ships, young crews. "Every year thousands of young people serve before the mast (or in the galley) of a kind of ship that once seemed to be an endangered species."
"Parents: think of an activity for your offspring with no drugs, not very much clubbing, and the near-impossibility of sex. Think of a sport which provoked the lady mayor of Cadiz last summer to offer this unprecedented invitation: 'Crews, you are full of youth and strength. Feel free to give rein to the joy of your youth, and fill our town with happiness tonight.' Think tall-ships racing."
Unfortunately, the link to http://www.tallshipsraces.com/ from the article doesn't work. However, I've found some other interesting sites: the home page of the International Sail Training Association which organizes the races, and The Cutty Sark Tall Ships' Races, with a guide to tall ships featuring pictures of every type of ship from a full-rigged ship to a yawl. Last year, the race ended in Flensburg, Germany.
Cool Tool

I use Google about a dozen times a day. Now I found this cool Google Search link on Serious Instructional Technology, David Carter-Tod's weblog. It pops up a window for you to type the search word(s) in, so you don't have to load the Google page. It's especially convenient to make it a toolbar item – just one click, entering the word(s), hit return – and voilà , there are your results.



Link via Duncan's Jotter.
Physik

Zum gerade vergangenen Jahr der Physik hat die Deutsche Physikalische Gesellschaft eine Denkschrift herausgegeben. Der Inhalt sieht interessant aus, und mit 218 Seiten bzw. über 1 kg kostet sie gerade mal DM 10 plus Versandkosten.
Art

A Common Thread … runs throughout the world…

Wonderful photo gallery with travel photos from around the world.

Link via Garret.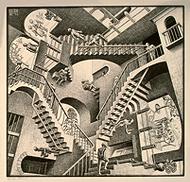 Math and Art

The Schockwellenreiter (aka Jörg) has a link to this M.C. Escher gallery. Yes, Jörg, all math students love Escher – me, too!

Ach ja, und in dieser Linksammlung sind auch einige nette Mathe-Links zu finden.

Ebenfalls via Jörg.
I just did searches on the local search engine and with Google, but couldn't find Escher links on my site. I was damn sure I had posted a link to an Escher gallery before. Let's see if I can find it elsewhere…

Here it is: Maurits Cornelis Escher (page 1 of 8) at the National Gallery of Arts, Washington. I found my favourite Escher picture here as well: Relativity (Relativität).
If you are interested in Escher's work, I can highly recommend Magic Mirror of M. C. Escher, by Bruno Ernst (in Deutsch: Der Zauberspiegel des Maurits Cornelis Escher). It is a wonderful book that not only shows many of his graphics, but also explains how Escher worked and how he created his art. The author, Bruno Ernst, knew Escher personally and discussed his works with him in great detail. If you like Escher's art, this book will help you to understand and enjoy it even more.