Sunset

The Schockwellenreiter has posted a great sunset photo which shows the Potsdamer Platz in Berlin – under construction, obviously.

I have to admit it's more colorful than mine from yesterday. I tried to catch today's sunset a little earlier, but it was too cloudy. Anyway, I think I have another impressive sunset. How about this one, Jörg?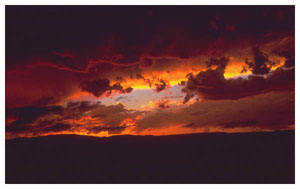 Deutsch | English

Pianos

Garret had this link for me: A touch of genius.

I used to play the piano, though I'm not very good at it. Started too late, but like it anyway!



I don't own a piano; the one my sister and I used to play on belongs to my parents and still is in their house although they don't play. Whenever I'm there to visit, I dust it off and play for a while.

And yes, it is a black piano, very shiny and polished. It looks like this one.