Achtung Rennstrecke der ersten Weblog-Rallye!!!

Wer lange liest verliert…also schnell weiter!!!

(Wer hier erst auf die Strecke hüpft, wird automatisch zum Start gelinkt)


Yeah, okay, I think I made sure the people who participate in the weblog rallye today will find their link…

Neue Homepage

Meine Freundin Gabi, bei der ich gerade zu Besuch bin, hat sich bei Weblogs.Com eine Homepage eingerichtet. Viel ist noch nicht zu sehen, aber sie freut sich natürlich trotzdem über Besucher!
Worry Tree

I like Sheila's Worry Tree Story.
Have a nice weekend!

Yes, I know, it's only Friday. But I'm leaving this morning for a three-day trip.
I'll first go to Hamburg, where I'm visiting with Gabi, a friend from school days. We're going to spend the day in Hamburg and have some fun.
On Saturday, we're going to Hanover together, to the wedding party of Swen, a friend I met while I was living in Hanover, and his wife Gabi. (Yes, it's a different Gabi.) They got married on June 15, but they went on a honeymoon trip to Canada first and are having their party now.
On Sunday, I'm going to meet my parents at Hanover, and together we are going to visit the Rainforest house (sorry, site is in German), an Expo Project in the Herrenhäuser Gärten.
So I'm sure I'll have a lot of fun this weekend, and I hope you do, too!
P.S.: Expect the next update Sunday evening or Monday…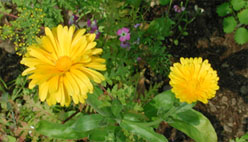 Schönes Wochenende!

Ja, ich weiß, es ist erst Freitag, aber ich fahre schon morgen früh für drei Tage weg.
Zuerest geht's nach Hamburg zu Gabi, einer Freundin, die ich noch aus der Schule kenne. Wir werden wohl irgendwas in Hamburg unternehmen; das Wetter soll auch schön werden.
Am Samstag fahren wir dann gemeinsam nach Hannover, wo wir zur Hochzeitsparty von Swen und Gabi (einer anderen Gabi) eingeladen sind. Sie haben schon am 15. Juni geheiratet, aber danach waren sie erstmal vier Wochen in Kanada. Und jetzt kommt die Feier!
Am Sonntag treffe ich mich dann mit meinen Eltern in Hannover. Wir werden gemeinsam das Regenwaldhaus im Berggarten der Herrenhäuser Gärten besuchen.
Sieht so aus, als werde ich ein schönes Wochenende haben – und das wünsche ich Euch auch!
P.S.: Das nächste Update gibt's wahrscheinlich erst am Sonntagabend oder Montag…