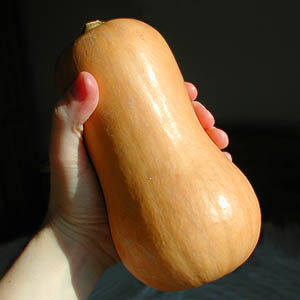 Ingredients

1 small red bell pepper

1 small yellow bell pepper

1 pound pork boneless loin, cut into 1-inch cubes

1/2 bound bulk chorizo sausage

1 large onion, chopped (about 1 cup)

2 cloves garlic, finely chopped

1 cup beef broth

1 tablespoon dried basil leaves

1 tablespoon dried cilantro leaves

2 teaspoons ground red chiles

1 cup whole kernel corn

1 medium tomato, chopped (about 1 cup)

1 small butternut or acorn squash, pared and cut into 1/2-inch cubes (about 1 cup)

1 can (2 1/4 ounces) sliced ripe olives, drained (about 1/2 cup)
Corn Bread Topping:

1 1/2 cups yellow cornmeal

1/2 cup all-purpose flour

1 cup dairy sour cream

2/3 cup milk

1/4 cup vegetable oil

2 teaspoons baking powder

1/2 teaspoon baking soda

1/2 teaspoon salt

1 egg
Cut 5 thin slices from each bell pepper; reserve slices. Chop remaining bell peppers (about 1/2 cup each). Cook pork, sausage, onion and garlic in 4-quart Dutch oven over medium heat, stirring occasionally, until pork is no longer pink; drain. Stir in chopped bell peppers, broth, basil, cilantro and ground red chiles. Heat to boiling; reduce heat. Cover and simmer 30 minutes, stirring occasionally. Stir corn, tomato, squash and olives into meat mixture; cook 15 minutes longer.
Heat oven to 425°F (225°C). Prepare Corn Bread Topping (mix all ingredients; beat vigorously 30 seconds). Pour meat mixture into ungreased rectangular baking dish, 13 x 9 x 2 inches, or 3-quart shallow casserole. Pour Corn Bread Topping over meat mixture; carefully spread to cover, sealing to edge of ddish. Arrange reserved bell pepper slices on top. Bake until topping is golden brown, 15 to 20 minutes. Serve with fresh tomato salsa (if you like).
Makes 8 servings, about 1 1/2 cups each (for four to six people).

1 kleine rote Paprika

1 kleine gelbe Paprika

500 g Schweinegulasch, in kleine Würfel geschnitten

250 g Chorizo oder kräftige Salami

1 große Zwiebel, gewürfelt

2 Knoblauchzehen, fein gewürfelt oder durch die Presse gedrückt

250 ml Brühe

1 Eßlöffel getrocknetes Basilikum

1 Eßlöffel getrockneter (oder frischer) Koriander

2 Teelöffel gemahlene Chilis (oder Chilipulver)

1 Dose Maiskörner (abgetropft)

1 Tomate, gewürfelt (können ruhig 2 bis 3 Tomaten sein)

1 kleiner (ca. 700 g) Butternut-Kürbis (siehe Foto)

70 bis 80 g Oliven, in Scheiben geschnitten
Maisbrotteig für die Kruste

1 1/2 Tassen Maismehl (1 Tasse = 250 ml)

1/2 Tasse Weizenmehl

1 Tasse Schmand

2/3 Tasse Milch

1/4 Tasse Sonnenblumenöl

2 Teelöffel Backpulver

1/2 Teelöffel Natron

1/2 Teelöffel Salz

1 Ei
Von jeder Paprika fünf dünne Scheiben schneiden und aufbewahren. Die restilichen Paprika in kleine Würfel schneiden. Das Fleisch, die Chorizo, Zwiebel und Knoblauch bei mittlerer Hitze im geschlossenen Topf kochen und gelegentlich umrühren, bis das Fleisch nicht mehr rosa ist; abgießen. Die Paprika, Brühe, Basilikum, Koriander und Chilis dazugeben. Aufkochen; dann die Hitze reduzieren. Bei geschlossenem Deckel 30 Minuten kochen lassen, ab und zu umrühren. Dann Mais, Tomaten, Kürbis und Oliven hinzufügen; weitere 15 Minuten kochen
Den Ofen auf 225°C vorheizen. Den Maisbrotteig anrühren (alle Zutaten gut vermischen und 30 Sekunden kräftig mit dem Mixer rühren). Die Fleischmischung in eine flache feuerfeste Form füllen. Den Maisbrotteig darübergießen und dabei darauf achten, daß alles gut bedeckt ist. Die zurückgelegten Paprikascheiben darauf arrangieren. Ca. 15 bis 20 Minuten backen, bis die Maisbrotkruste gelbbraun ist. Nach Geschmack mit frischer Tomatensalsa servieren.
Reicht für vier sehr hungrige oder sechs nicht so hungrige Esser.