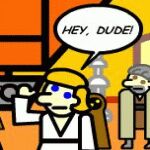 "Use the force, dude!"

I always thought Flash was useless. Until today. I present: Star Dudes! These are phanastic minimal and somewhat cute versiona of three Star Wars films. Totally cool! You can watch the Flash movies right away or download them for offline viewing.

Link and picture via ronsens.
* * *
Warning: Rant ahead! Click here to skip it and read some philosophy and positive thoughts instead.

Cars

Garret posted some thoughts on cars in cities yesterday:
america's car culture is ruining the charm of santa fe, and other places. […] americans seem to think that if you can't drive up to something, it isn't worth seeing. to a certain degree, that's good (wilderness areas) … on the other hand, tourist destinations like santa fe have to cater to this kind of individual. i'd love to see them prohibit cars, strip off the asphalt and return to dirt and boardwalks … and, watch that horsechip over on your left, ma'am …
If you can't drive up to something, it isn't worth seeing – that was what I thought when we visited those National Parks in California, Arizona, Utah. They had streets, panoramic roads, parking space and picnic tables all over the place. I understand that it is important to have streets and broad walks to some of those places, so people in wheelchairs can see them too, but somehow it felt wrong to have masses of cars in those places. Traffic had to be limited on the South Rim of the Grand Canyon and in Yosemite Valley (and now in Zion, too). There were buses in those places, and they worked well. Why let cars into the parks in the first place? They could use buses or trams or trains or whatever in every park, and the individualists can still go there on foot or by bike.

To be fair, I have to say that there are still places that you can't reach by car, for example the Needles section of Canyonlands, or the Wave. To conserve the beauty of fragile places like the Wave, it's essentiel to limit the number of visitors.
Cars in inner cities are a different thing. Many cities are planned and built for cars, but older ones were not. In Germany, many cities and towns have turned their inner cities and old towns into pedestrian precincts. (Nice word. Is it British, or do Americans use the word as well?) That simply means: The cars stay out, and pedestrians are allowed to walk everywhere, even in the middle of the street. But the streets have been changed as well. Pedestrian precincts often have lots of trees in them, a bench or some stones to sit on, cafés put their tables outside, and the whole atmosphere changes.
Bonn has a big pedestrian precinct in the oldest part of town. There are two markets, some broad and many narrow streets that are for pedestrians only. Bikes are only allowed in some of them.

Besides, there are pedestrian precincts in other parts of town: one in Beuel (across the Rhine), one in Bad Godesberg (where many of the foreign embassies used to be while Bonn was the capital of Germany), and one in Duisdorf, the part of Bonn in which we live. Ours is just one street, less than a kilometer in length, with a small market, and bikes are allowed there.
As to your ideas, Garret, they don't strip off the asphalt here, but often use cobblestones. Combined with the builings in inner cities that are several hundreds of years old, this does a lot to improve the atmosphere!

(By the way, Craig, do you remember the pedestrian precinct in Koblenz?)
While looking for photos of our pedestrian precincts, I found a site with wonderful pictures of Bonn: Stadtplanungsamt – Überblick. It's in German, but you can click on one of the little round photos to see panoramic photos of Bonn, taken from the roof of a tall building in the city center. For example, this one shows the inner city with the pedestrian precinct, the University (building with four orange towers) and the Münster (one large and two smaller towers on the right). You can also see the Langer Eugen, the building in which the members of the parliament used to have their offices, and the Siebengebirge (seven hills) in the background.
Damn, I didn't find any decent pictures. Seems I have to do them myself… but not today.

Life can be surprising at times

I quote Max Smith:
"We should all be so resilient and self-determined. On Saturday, you composed what I now consider the most beautiful sentence ever created in the history of mankind:

"I have decided that today is going to be a good day."

There is nothing more inspiring, powerful, and beautiful than human will. You may have written that sentence without any regard to it's philosophical and moral implications, but it would be hard to find a more concise expression of what it means to be fully human, and not merely an animal controlled by instinct and circumstance."
Max added a quote from the Hagakure:
"If (one) will just think about what he is to do for the day at hand, he will be able to do anything. If it is a single day's work, one should be able to put up with it. Tomorrow, too, is but a single day."
Thank you, Max. I feel deeply honoured, and I'm sure your quote by Hagakure will help me through the rest of my thesis.
Have a wonderful day, everyone!