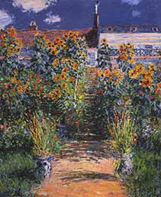 Pasadena

Susan went to Pasadena today and has a link to an article about its museums.

That reminds me that we went to Pasadena twice in the five weeks I spent in Hesperia, CA, on a student exchange in 1992. Once, we went to the Huntington Library, Arts Collections, and Bontanical Gardens, the other time I went on a field trip with an art class to visit an art college or university and the Norton Simon Museum. I bought a print of Monet's Garden at Vétheuil there that is hanging on a wall in our living room now.
Have to look twice

Cool photo, Sheila! I had to look twice before I understood how you did that. Great idea!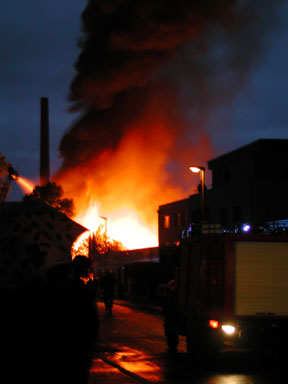 Fire!

About an hour and a half ago, André looked out of his window and saw smoke at the end of the street. Fire! Together, we went outside to see what was going on.
The flames were huge! I took a few photos from as close as I could get without being in the way of the fire department. There were several fire engines, lots of firemen and two of those huge ladders. (Babelfish says the English word for Drehleiter is turning conductor, but that doesn't seem right…)
They unrolled fire hoses all along the street and connected one to a hydrant right in front of our house.
I'm not sure what is burning there; on that end of the street, there are several industrial enterprises. At first it looked like a fairly small, but strong fire; there were high flames, but only in a small area. Now, more than an hour later, there are no more flames, but lots and lots of smoke. We saw some firemen going in with oxygen masks, but it doesn't seem that there were people in danger because we didn't see any ambulances.
By now, it is completely dark, and you can't see anything because of all the smoke and the rain that is pouring down at the moment. The fire department is still busy.
I think we will have a closer look tomorrow to find out what was going on there. Also, the batteries for my camera will be recharged by then; of course, they went out after I took the first few pictures…