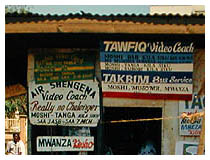 Kenya

Thursday, September 21, 1995: How to get to Mombasa, Kenya, from Moshi, Tanzania.
Internal

I've turned on home page caching. This page should load faster now.
And in personal news, André has safely arrived at his destination.

News

I think I'll try to pick up a copy of the New York Times Magazine on Sunday. I hope I'll be able to get it at the news stand at the train station.