I have no words…

I've been watching BBC World via the internet since less than an hour after the WTC was hit by the planes, and I don't kow what to say.
I'm glad to read that your wife is okay, Craig.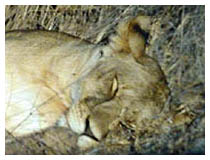 Kenya

Monday, September 11, 1995: Last day at Samburu; return to Nairobi.
Aerial Photography

Did you recognize Audrey and Hal in this photo on the Mount Shasta page of the Great Plains KAP site? Hal linked to the site a couple of months ago, which I must have overlooked somehow. Thanks for letting me know, Hal!
Manila

I just flipped the home page for the first time since Manila on this server was updated to do quicker homepage flipping. Cool!

Remeber, I wanted this back in February 2000!



Also new: the stats index page.