Color vision

There is an interesting article on the possibility of tetracromates in the Red Herring Magazine: Looking for Madam Tetrachromat – Do mutant females walk among us?, by Glenn Zorpette.

Link via /usr/bin/girl.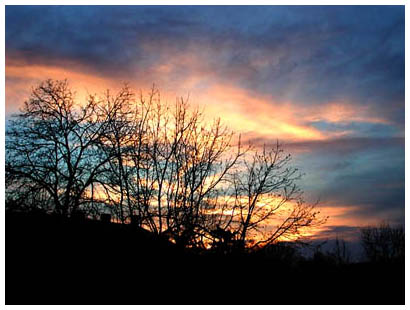 This time it's todays sunrise!
One Book

The One Book List:
"I would like for each of you to decide on a single book that you would most like for the world to read for inclusion in the list. The book that, for you, was the most influential, or thought-provoking, or enjoyable, or moving, or philosophically powerful, or deep in some sense you cannot properly define, or any other criteria you wish to set."
It's a really interesting collection of more than 800 books. I've found lots of recommendations there. So many good books out there, but so little time…

Has anyone read Bored of the Rings, by Henry N. Beard and Douglas C. Kenney? It is a parody on 'The Lords of the Rings', by J.R.R. Tolkien. If you have read it, do you recommend it?
By the way, my favourite book of all times is A Fine Balance (deutscher Titel: Das Gleichgewicht der Welt), by Rohinton Mistry.
Link via BookNotes. Thanks, Craig!