For a choir get-together I baked Smitten Kitchen's Feta Tapenade Tarte Soleil today. The recipe was easy to follow, and while the tarte didn't look like much before baking, it came out beautifully!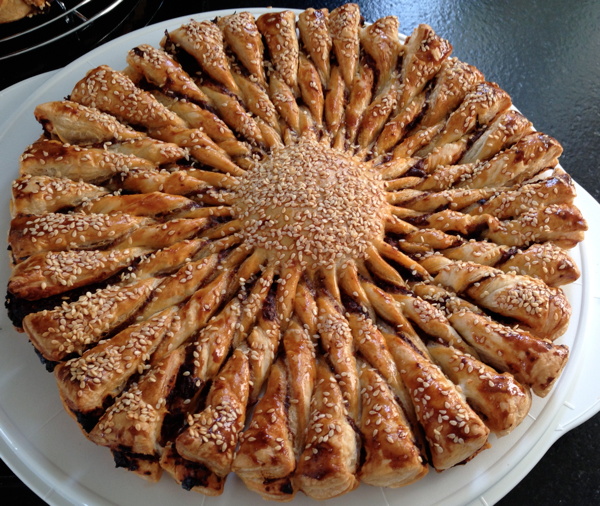 Das obige Rezept habe ich leicht abgewandelt, daher gibt es hier meine Version mit metrischen Maßen.
Blätterteigsonne
Zutaten
2 Packungen frischer Blätterteig (meiner war rechteckig für ein Blech; ich habe ihn etwas ausgerollt und dann mit Hilfe eines großen Tellers einen Kreis ausgeschnitten)
1 Eigelb
1 – 2 Esslöffel Sesam
Füllung
1/4 Glas getrocknete Tomaten in Kräutermarinade (weniger als 100g)
1/4 Glas Kalamata-Oliven ohne Stein (ca. 50g) – auch andere Oliven möglich
1 Zehe Knoblauch
Oregano (getrocknet)
etwas Olivenöl oder Öl von den eingelegten getrockneten Tomaten
Dip (großzügige Menge, reicht für 2 Sonnen)
1 Packung Feta, abgetropft
100g Frischkäse
Saft von 1 Zitrone
Olivenöl
Zubereitung
Die Zutaten für die Füllung mit dem Pürierstab zu einer festen Masse zerkleinern, dabei nur gerade so viel Öl zugeben, dass die Zutaten sich gut vermischen. Dann einen Blätterteigkreis flach auf ein mit Backpapier ausgelegtes Backblech legen und mit der Füllung bestreichen, dabei einen Rand freilassen und diesen mit etwas Wasser anfeuchten. Den zweiten, gleich großen Blätterteigkreis darauf legen und am Rand festdrücken.
Nun in die Mitte des Kreises ein kleines Glas o. ä. stellen und mit einem scharfen Messer den gefüllten Blätterteig um das Glas herum von der Mitte zum Rand hin in Segmente schneiden. Am einfachsten beginnt man, indem man den Kreis viertelt und dann jedes Viertel halbiert, die entstandenen Achtel nochmals halbiert und die Sechzehntel ein weiteres Mal halbiert, um 32 "Sonnenstrahlen" zu erhalten. Nun vorsichtig jeden "Strahl" drei oder vier Mal um sich selbst drehen, wobei man jeweils in die gleiche Richtung drehen sollte.
Dann die fertige Sonne mit dem Eigelb, das man vorher mit einem Esslöffel Wasser verschlagen hat, bestreichen und mit Sesam bestreuen.
Im vorgeheizten Ofen (Umluft, 170°C) ca. eine halbe Stunde backen, bis die Sonne goldbraun ist.
In der Zwischenzeit die Zutaten für den Dip verrühren (ich habe den Feta mit einer Gabel krümelig zerdrückt und dann die restlichen Zutaten damit verrührt).
Von der fertig gebackenen Sonne Strahlen abreißen und dippen – guten Appetit!
Bemerkungen
Leider habe ich vergessen, den Rand freizulassen, so dass meine Strahlen an den Enden aufgegangen sind (siehe Foto), was der Sache aber keinen Abbruch getan hat. Ich habe gleich die doppelte Menge Füllung zubereitet und zwei Sonnen gebacken; für diese Menge hat der Dip genau gereicht.
Wie auch beim Originalrezept von Smitten Kitchen beschrieben kann ich mir eine solche Sonne auch gut mit einer anderen Füllung vorstellen, z. B. auch als süße Variante mit Schokoladenfüllung oder Zimtzucker. Natürlich sollte man dann vielleicht keinen Feta-Dip dazu essen. ;-)
Aus den übrig gebliebenen Ecken Blätterteig (der vor dem Zuschneiden rechteckig war) habe ich übrigens mit Zimtzucker bestreute improvisierte Schweineöhrchen gemacht.