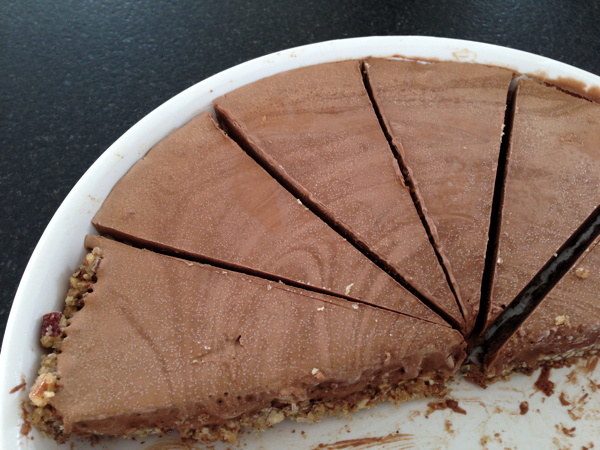 Thanks for the great dessert in 2002 and the recipe, Sandra and Garret!
Original recipe
Metric conversion and German translation follow below.
Crust:
2 cups finely chopped pecans, toasted
5 tablespoons plus 1 teaspoon firmly packed brown sugar
5 tablespoons butter, chilled, cut into small pieces
2 teaspoons dark rum
Chocolate filling:
6 ounces semisweet chocolate
1/2 teaspoon instant coffee powder
4 eggs, room temperature
1 tablespoon dark rum
1 teaspoon vanilla
1 cup whipping cream
1/2 cup whipping cream, 3 tablespoons shaved semisweet chocolate
For crust: Blend all ingredients for crust until mixture holds together. Press into bottom and sides of 9-inch pie plate. Freeze for at least 1 hour.
For filling: Melt chocolate with coffee in top of double boiler over hot water. Remove from heat and whisk in eggs, rum and vanilla until mixture is smooth. Let cool about 5 minutes. Whip 1 cup cream until stiff. Gently fold into chocolate mixture, blending completely. Pour into crust and freeze.
About 1 hour before serving, transfer pie to refrigerator. Whip remaining 1/2 cup cream and dollop or pipe over pie. Sprinkle with chocolate shavings.
Pie can be frozen up to 3 months.
Metric version
Crust:
250g pecan nuts
80g brown sugar
70g butter
2 teaspoons rum
Filling:
170g semisweet chocolate (used Lindt Zartbitter, 50% cacao), but I think 200g will work too
1/2 teaspoon instant coffee powder (used espresso powder)
4 (medium) eggs
1 tablespoon rum
200g whipping cream (30% fat)
Gefrorener Pekan-Schokoladen-Pie
Boden:
250g Pekannüsse (200 reichen knapp)
80g brauner Zucker
70g Butter
2 Teelöffel Rum
Füllung:
170g Schokolade (Lindt Excellence Zartbitter mit 50% Kakao)
1/2 Teelöffel Instant Espresso (Jacobs)
4 Eier (Größe M)
1 Esslöffel Rum
1/2 Teelöffel Vanillearoma
1 Becher Schlagsahne (200g, 30% Fett)
1/2 Becher Schlagsahne und Schokoladenraspeln zartbitter
Für den Boden: Pekannüsse hacken und in der Pfanne anrösten (alternativ zuerst rösten, dann maschinell hacken), mit den übrigen Zutaten mischen, bis die Masse zusammenhält, und Boden und Wände einer Pie- oder Tarteform (Durchmesser 26cm) damit auskleiden. Für mindestens eine Stunde in den Gefrierschrank stellen.
Für die Füllung:
Schokolade im Wasserbad schmelzen und Instant-Kaffeepulver einrühren. Vom Herd nehmen und Eier, Rum und Vanillearoma einrühren. Etwa fünf Minuten abkühlen lassen.
Einen Becher Sahne schlagen und vorsichtig unterziehen. Die Füllung in den fertigen Boden gießen und (am besten über Nacht) einfrieren.
Den Pie eine Stunde vor dem Verzehr in den Kühlschrank stellen. Mit 1/2 Becher geschlagener Sahne und Schokoladenraspeln verzieren und servieren. Alternativ schmeckt auch Vanilleeis gut dazu!
Der Pie kann im Gefrierschrank bis zu 3 Monate gelagert werden.
Guten Appetit!