Letzte Woche in der Zeit:
Reisen: Ein Bayer in Taos. "Mitten im Skigebiet von New Mexico gibt es Weißbier und Schweinshaxe. In der Berghütte des Oberpfälzers Thomas Schulze ist Julia Roberts Stammgast." Von Thomas Kleine-Brockhoff.
Incidentally, André and I visited The Bavarian with Garret and Hal.
Here's a rough English translation of the article via Babelfish.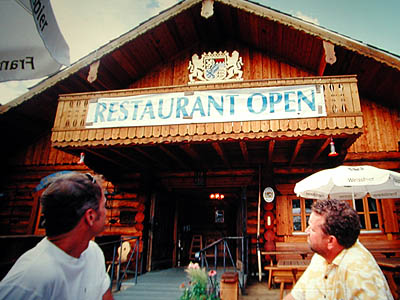 Garret and Hal at the Bavarian, Taos Ski Valley. August 17, 2002.