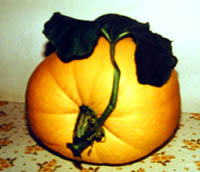 Damals…

An den hatte ich schon ewig nicht mehr gedacht… den Kürbis, den Ralf mir zum 16. Geburtstag geschenkt hat. Kaum zu glauben, daß das schon über zehn Jahre her ist.
Hey Ralf, ich hätte da auch noch Fotos von der Klassenfahrt oder der Schwedentour 1991 – auf einigen bist Du auch drauf. (Soll ich mal gucken, ob da noch ein sehenswertes von Ralf vor zehn Jahren dabei ist?

)
Ich erinnere mich noch, daß Du mir auf der langen Rückfahrt von Schweden den kompletten Hitch Hiker's Guide to the Galaxy erzählt hast. Muß man eigentlich den fünften Teil auch gelesen haben? Ich habe nämlich bisher nur die ersten vier geschafft, aber immerhin auf englisch und deutsch.