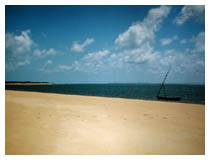 Kenya

Thursday, September 28, 1995: Gone fishing!
Hunting

Today I went squash hunting. (See image below.) Squash are not as common in Germany as they are in the USA, and especially butternut squash are pretty rare. However, they're also quite tame, so I was able to catch this one with my bare hands. I didn't need a squash cat and a rifle like John does.
Tomorrow, we will use the squash for Pork Stew with Corn Bread Topping. The recipe says the stew has to be cooked in a Dutch oven. Since we don't own one, do you think we can just cook it in a pot? Dutch ovens are not known in Germany, or at least I've never heard of one before.
Update: Al says that a Dutch oven is a pot with a lid. Yeah, we actually have one. Thanks Al!