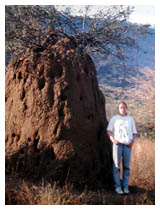 Kenya

Monday, September 18, 1995: Lake Manyara.
Afghanistan?
"It's impossible to get an education or show an ankle in Afghanistan if you're female. Girls' schools have been closed and at least one woman has been stoned to death for flashing that erotic bony protuberance at the nether end of her shin bone. […]

The United Nations, Amnesty International and the EU have repeatedly criticised the Taliban for their flagrant abuses of human rights and their contemptible treatment of women, and aired allegations that they are financing their regime by the sale of narcotics. […] A vicious war is raging in the north between the Taliban and the remainder of the government forces."
Quoted from Lonely Planet: Afghanistan. They do not recommend traveling there.

By popular demand, Lonely Planet has made the complete chapter on Afghanistan of their guide to Central Asia available online. Download the PDF here. There's more info in the upgrades section (PDF here).