Diese Woche in der Zeit

Bitte nicht schießen: Blimps "sehen aus wie Zeppeline, sie schweben über Großstädten. Die Piloten der Werbeluftschiffe fürchten nur Stürme – und Gewehrkugeln."

Here's a Babelfish translation for the English-speaking zeppelin fans: Would ask not shoot.
Schule: Muff und Filz im Lehrerzimmer. "Wie Gesetze und Behörden verhindern, daß die Schule besser wird. Fünf Fallbeispiele." (von Friedrich Mahlmann)
Astrophysik: Das Orakel von Cambridge. "Nächste Woche erscheint Stephen Hawkings neues Buch, und schon wird er wieder als Ikone der Astrophysik gefeiert. Doch Mythos und Realität klaffen weit auseinander."
Medizin: Neustart im Knochenmark. "Eine Radikalkur könnte bei Autoimmunleiden helfen. Doch die Therapie ist riskant."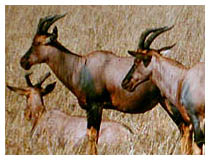 Kenya

Wednesday, September 6, 1995: Game drive at Masai Mara National Park.
Astronomy

Build a solar system: "Make a scale model of the Solar System and learn the REAL definition of 'space.'" The page calculates the sizes of the planets and the diameters of the orbits if you specify the diameter of the sun.

Link via bleublog.
Community

A very Happy Birthday and all the best to you, Al! Herzlichen Glückwunsch!
And happy 18th wedding anniversary, Frauke and Scott!