Long-awaited update

array is back! Well, he's not really back, but he has been able to flip the page and post at least a whole week's worth of travel observations and stories.
Scripting News Meeting in Seattle

Two days ago, there was a Scripting News meeting in Seattle. Dave wrote that about 30 people were there. Mira commented: "There were a lot of men (just four ladies!)".

At the Scripting News Meeting in Amsterdam, there were fewer people, but I was the only woman there! But I felt just like Mira – I don't know anything about Frontier, but it was fun anyway.

What does a photo say about a person's personality?

When we met yesterday, Craig commented on the photo of me on my website, the one on which I'm wearing sunglasses. He said that the other photo of me, which was on BookNotes the other day, looks more like the person I really am, than the one with sunglasses. Then why is the photo on my web site? – Because I didn't have another digital image of myself at that time. Seems like it's high time to get a digital camera!

---
Was sagt ein Foto über die Persönlichkeit eines Menschen aus?

Als wir uns gestern mit Craig trafen, meinte er, daß das Foto hier (das vor einigen Tagen auf BookNotes zu sehen war) sehr viel besser zu meiner Persönlichkeit paßt als das, welches oben links zu sehen ist und auf dem ich eine Sonnenbrille trage. Warum habe ich dann das Sonnenbrillenfoto auf meiner Website? – Ganz einfach, weil ich außer diesem kein anderes Foto in digitaler Form hatte. Es wird wirklich Zeit für eine Digitalkamera!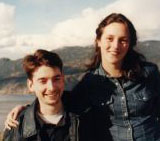 Alles Gute zur Hochzeit!

Heute heiraten Gabi und Swen! Herzlichen Glückwunsch!