One of André's friends came to visit today, so I didn't have much time to spend in front of the computer…
Tonight, we played our favourite game, RoboRally:
On a distant planet that serves as the Empire's grid-widget factory, the various control computers went about their daily routine. These sophisticated computers were fully equipped with standard intelligence modules to handle any situation which might come up at the factory. As one of the main planetary control computers, you oversee the operation of numerous small robots. You issue them commands, but you must keep issuing them commands as they have very short memories.
Hopefully I'll have more time tomorrow!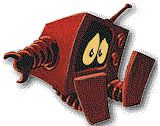 Heute bekamen wir Besuch von einer Freundin von André, also hatte ich nicht viel Zeit, vor dem Computer zu sitzen…
Am Abend haben wir unser Lieblingsspiel gespielt: RoboRally!
Auf einem fernen Planeten, der dem Empire als Industriestandort dient, gingen die Kontrollcomputer ihren üblichen Aufgaben nach. Diese waren voll ausgestattete mit Standard-Intelligenz-Modulen, so daß sie jede mögliche Situation beherrschen können, die in der Fabrik auftreten könnte. Als einer der Hauptaufsichtscomputer überwachen Sie die Arbeit von Robotern. Sie geben ihnen Befehle, aber Sie müssen die Roboter immer wieder neu programmieren, da sie nur einen begrenzten Speicher haben.
Morgen hoffentlich mehr…