Today I went to visit Nadelwelt, a fair for all things needlecraft. My main interest is, of course, quilting, and I always enjoy looking at new fabric and especially the lovely quilts most booths have on display. Of course every sewist likes to wear something they've sewn themselves, so I brought this handbag I sewed three years ago: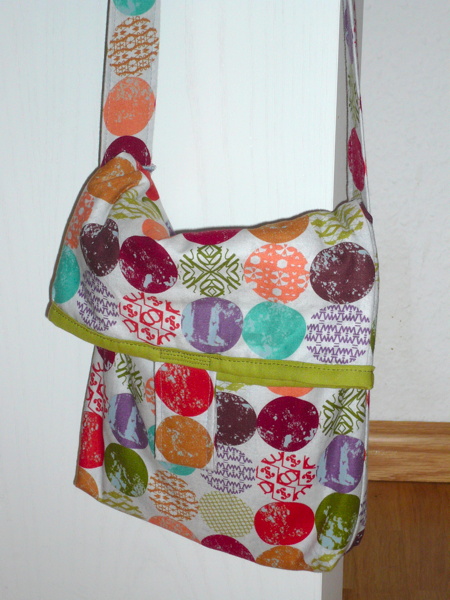 While I was walking along one aisle, a lady stopped me to compliment me on my lovely handbag. I said thanks, and she replied with: "Well, I designed the fabric, I spotted it right away!" – "Oh – you are Brigitte Heitland! And she was! I told her I was a huge fan of her fabric collections. I noticed that she wore a tote bag made from her Barcelona line and mentioned that I've had a fat quarter bundle of Barcelona at home for a year and had not yet found the courage to cut into it.
She then went on to the workshop she taught that afternoon, and I went on browsing the booths, soon coming to the one of her company, Zen Chic, where the attendant promptly complimented me on my bag and told me the fabric was a line of their's. I told her that I'd just heard the same from Brigitte Heitland herself. :-D
Later I went and looked at the quilt exhibition that's part of the fair, and they had some of Brigitte Heitland's quilts there, among them one called Shine through (scroll all the way down) made with the Barcelona fabrics I've got. I think I might attempt something similar and turn it into a wall hanging for our living-room.