Vor eineinhalb Wochen habe ich mit einer Freundin und ihrem dreijährigen Sohn die Kürbisausstellung beim Blühenden Barock in Ludwigsburg. Der Titel der diesjährigen Ausstellung lautet Reise zu den Sternen, wie man an den Fotos unschwer erkennen kann.
Neben hunderten von Kürbissorten und den Kürbisskulpturen konnte man natürlich auch Kürbis essen (von Quiche bis Knabberriegel mit Kürbiskernen war alles dabei) und Kürbisse kaufen. Ich habe einen Sweet Dumpling mitgenommen, nachdem ich einige Sorten probieren konnte. Diesen Kürbis kann man geraspelt als Rohkost pur oder in einem gemischten Salat essen, sein Geschmack ist süßlich. Empfohlen wurde dort auch die Zubereitung im Backofen, man sollte ihn 45 Minuten garen.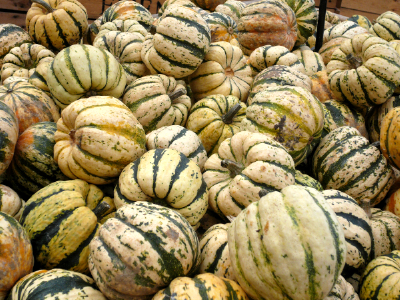 Letzte Woche kam ich dann aber recht hungrig von der Schule zurück und hatte keine Geduld, eine Dreiviertelstunde in den Backofen zu starren. Mir fiel ein, dass ich bereits Kartoffeln in der Mikrowelle "gebacken" hatte, und beschloss, es auch mit Kürbis zu versuchen.
Den recht kleinen Sweet Dumpling habe ich also geviertelt und zwei Viertel zusammen für vier Minuten bei 1000 Watt in der Mikrowelle gegart. Danach war er so weich, dass man das Fleisch mit Gabel oder Löffel bequem aus der Schale essen konnte. Dazu gab es Frischkäse – lecker!
Von einem Sweet Dumpling werden zwei Leute locker satt – oder die gleiche Person an zwei aufeinander folgenden Tagen. ;-)
By the way, lots of great pumpkin or squash (what's the difference anyway?) recipes can be found in this Ask MeFi thread: This weekend's iron chef ingredient: pumpkin. Now please help me do it right!