Eifel kriminell

Durch unseren Umzug sind wir der Eifel ein gutes Stück näher gekommen, und auf der Suche nach Informationen über die Vulkanpark-Routen, die hier in der Umgebung ausgeschildert sind, bin ich zwar nicht erfolgreich gewesen (Update 21.08.2004 – Hier ist die Site: Vulkanpark.com), habe dafür aber einiges über meine Lieblings-Eifelkrimis gefunden.
Bei Eifel Tourismus gibt es eine eigene Rubrik Mörderische Eifel, wo man u. a. Informationen zum Eifelkrimi-Wanderweg bekommt. Es geht aber auch mit dem Rad und zwar auf die Krumme Tour (Seite beim SWR; wer mag, kann den TV-Beitrag ansehen (.ram-Datei)).
Wer es lieber bequemer mit dem Auto mag, für den bietet Franz-Peter Dohmen Seiten zu den Eifel-Krimis an, insbesondere eine Eifel-Tour (Karte mit Webgeschreibung) zu den Schauplätzen der Eifelkrimis von Jacques Berndorf alias Michael Preute. Neben Erläuterungen zum Weg finden sich dort Auszüge aus den Krimis (teilweise auch aus Krimis anderer Autoren wie Ralf Kramp) sowie Hinweise darauf, was real und was fiktiv ist. Über den Autor selbst findet sich dort ebenfalls eine Seite mit einer Fülle von Informationen inklusive Lebenslauf und Bibliographie.
Und mehr durch Zufall habe ich eben entdeckt, dass Jacques Berndorf auch eine eigene Website hat: Jacques-Berndorf.de.
Nach langer Zeit mal wieder ein Sonnenuntergang

Our new flat has a balcony to the west. My first thought when I saw the flat was – perfect for viewing sunsets! Tonight was the first time the sky turned orange enough to warrant a few photos since we moved in. Here's the view from the balcony around 8:30 pm today: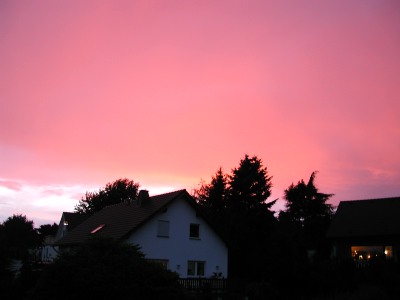 However, there are a few other houses that block the view, so I tried again from the attic: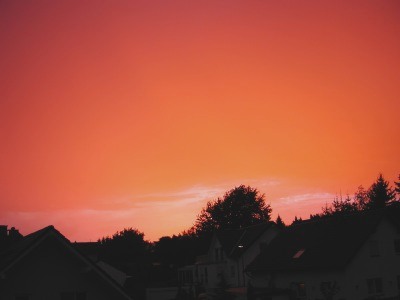 It was raining, so on the opposite side you could see a double rainbow.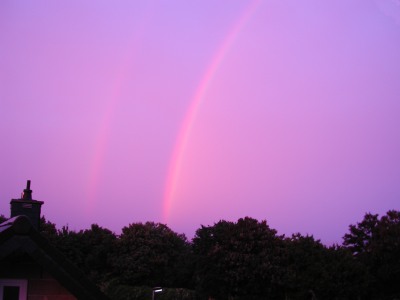 The colours in the photo don't look quite real. You can actually see in this shot that the camera is sensitive to infrared light because the red side of the rainbow seems to glow.
Two years and two days ago…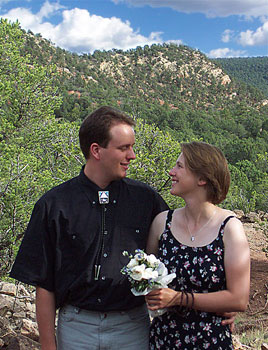 … André and I got married.
Thanks for the congratulations, Jeff! (Wow, Jeff seems to remember every birthday and anniversary for the people whose weblogs he reads.)