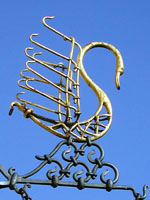 Photos

The day before yesterday was a cold but sunny day. I had taken my camera to school and happened to have some free time before my afternoon lessons, so I went for a walk in Bad Münstereifel and took some photos of things I see almost every day: Impressions of Bad Münstereifel.

And if you haven't seen them before, you might want to take a look at the photos I took in Bad Münstereifel almost a year ago. You can see my school, a view of the town from the city-wall and some of the old buildings.
Books

We got The Amazing Adventures of Kavalier and Clay (deutscher Titel: Die unglaublichen Abenteuer von Kavalier und Clay) by Michael Chabon for Christmas. I've only read about half of the more than 600 pages, but I'm going to recommend it even now. The book has recently been released in Germany, but has been around for a while in the US and Great Britain. A few links:
January Magazine: Where There Is Icing, a review by Claude Lalumière. (January 2001)
Salon: 'The Amazing Adventures of Kavalier & Clay' by Michael Chabon.

"In the rapturous, panoramic new novel by the author of 'Wonder Boys,' two midcentury comic book writers battle evil and celebrate escape in all its forms." By Amy Benfer. (September 28, 2000)
Read the first chapter at Guardian Unlimited.
Now it's time for bed, but I think I'll read a chapter or two before going to sleep.