AppleScript vs. the Bad Guys

"A fantastic story of how AppleScript helped keep sensitive data from the prying eyes of a thief and helped recover a stolen iMac."

Ever heard of a stolen computer that reported his new location to the original owner?



Link via Greg Pierce.
Mathe kann man be-greifen

Heute waren wir spontan in der Ausstellung Mathematik zum Anfassen. Wider Erwarten war es gar nicht sooo voll, so daß man auch selbst alles anfassen und ausprobieren konnte. Einige Exponate und Experimente kannte ich schon, viele waren auch mir neu. Am besten gefallen hat mir die Leonardo-Brücke, die da Vinci entworfen hat. Sie hält ganz ohne Leim oder Schrauben! Ein nettes Geduldsspiel ist, diese Brücke mit Streichhölzern zu bauen.



Am meisten Spaß hat es gemacht, mit Polydron (Achtung Flash) zu spielen. Es handelt sich dabei um ein Stecksystem von Dreiecken, Quadraten, Fünfecken und Sechsecken aus Kunststoff, mit denen man sehr vielseitig bauen kann – vom Leuchtturm bis zum platonischen Körper (siehe Fotos). Gerne würde ich mir ja so ein Köfferchen voll Spielzeug kaufen, aber es ist leider nicht ganz billig…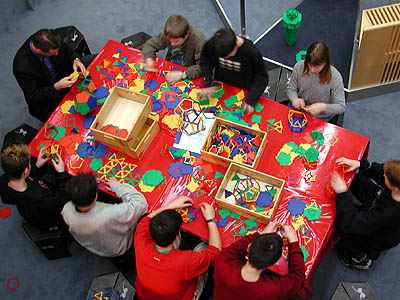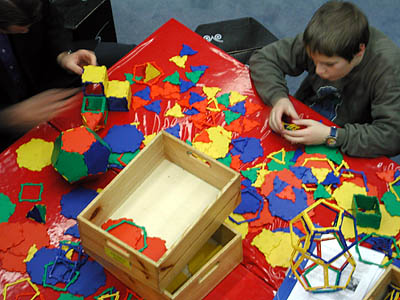 Als nächster Museumsbesuch steht übrigens die Ausstellung Prominente in der Werbung im Haus der Geschichte an. Da weiß man, was man hat.