The big three-oh

Yep, it's true, today is my birthday. Thanks, Hal, Susan, Cathie, Garret and Scott!
It's also Sheila's birthday today, so happy birthday, Sheila!
However, the real big day for me is tomorrow because tomorrow is Mittelrhein-Marathon day! I went to the Marathon fair yesterday and got my number and a chip for measuring the time. There are going to be about 1300 inline skaters and 9614 participants altogether.
This morning I went skating for the last time before the marathon, but I only did 10 km today. Besides the usual knee, elbow and wrist pads I'm going to wear a helmet tomorrow, so I feel well protected and prepared. I'm also going to take lots of water even though drinking water is provided. Why? Take a look at this: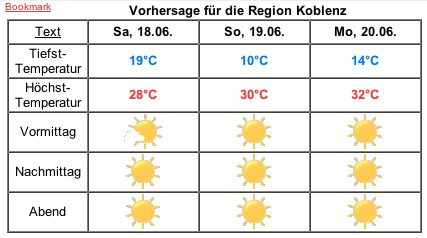 Translations: Low temperature, high temperature, weather in the morning, afternoon, evening. And for those of you not familiar with the metric system:: 30°C is 86°F.
Wanna play?

For my birthday, my parents gave me Polarity (deutsche Seite: Polarity), a game in which
"magnetic forces combine with physical dexterity and strategic thinking […]. Enter a new dimension as you learn to wield the invisible forces at play on the board. Force your opponent to disrupt the magnetic traps you have set – setting off dynamic chain reactions as pieces flip and collide – allowing you to score points to win the game!

A unique board game for 2 or 4 players, Polarity is easy to learn and very exciting to play over and over again. Casual players enjoy the exciting game play, and more advanced players prize the depth of strategy that can be employed.

Never the same game twice, Polarity will entertain you, amaze you and challenge you for years to come."
We haven't played it yet, but I played around with the magnetic discs and tried some of the moves. The website provides more information and examples of possible moves that are not mentioned explicitly in the rule book (of which I've got the German version, obviously). I predict that we are going to have a lot of fun with this game!