A little before sunset tonight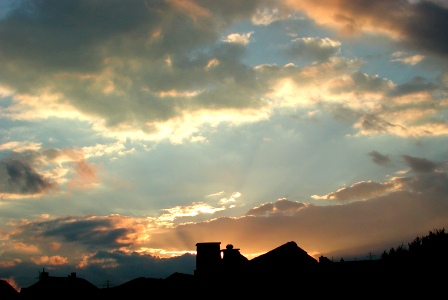 Programming (in school)

Ask MetaFilter: online resources about the Scheme programming language.
Languages

Ask MetaFilter: What concepts do not exist in the English language? A really interesting thread about strange concepts and funny quirks in many languages.
Cooking

Several good Ask MeFi threads lately:
Life, the universe, and everything

Okay, last Ask MeFi thread today: Do you regret not having children? Good discussion with arguments by both parents and non-parents.

Diese Woche in der Zeit

Netzwerk: Hallo Nachbar… "Private Computerfunknetze bringen findige Internet-Nutzer auf neue Geschäftsidee." Von Dirk Engelhardt.
Schule: Freiheit für die Pauker. "Lehrer müssen lernen lehren. Doch ihre Ausbildung ist schlecht, ihre Abhängigkeit groß. Die OECD drängt auf konsequente Reformen." Von Martin Spiewak.
Schule: Schule ohne Aufsicht. "Lehrer und Schüler sollen nicht länger von den Behörden gegängelt werden." Von Jan-Martin Wiarda.
Schule: Lockruf des Staates. "Soll der Beamtenstatus für Lehrer abgeschafft werden? Ein Gespräch mit Doris Ahnen, der Präsidentin der Kultusministerkonferenz."
Gefragt. "Debora Weber-Wulff, 47, zeigt Lehrern, wie sie aus dem Internet kopierte Hausaufgaben erspüren."
Archäologie: Ihre Leichen leben noch. "Mumienforscher entlocken ägyptischen Prinzessinnen und norddeutschen Moorleichen die letzten Geheimnisse. In Turin trafen sie sich zur Leistungsschau." Von Barbara Kerneck.
Medizin: Das geht unter die Haut. "Der Insektenwahn hat manchmal eine ganz natürliche Erklärung – Springschwänze." Von Mark Benecke.
Österreich: Reise zum Mohn. "Alles außer Opium: Zwei Dörfer im österreichischen Waldviertel bringen eine legendenumrankte Kulturpflanze zu neuer Blüte." Von Michael Gassmann.
Und aus dem Spiegel online

Interview mit dem Lehrer des Jahres: 'Wir können nichts dafür, dass wir zu alt sind'. "Nach der OECD-Lehrerstudie stehen die deutschen Pädagogen in der Kritik: Überbezahlt, überaltert und untermotiviert seien sie. Winfried Sturm, Lehrer des Jahres 2004, verteidigt im Interview mit Spiegel online seinen Berufsstand – und erklärt, was die DDR dem bundesdeutschen Schulsystem voraus hatte."
Einschulung: 'Ein Jahr mehr Kindheit'. "Eltern so genannter Kann-Kinder stehen vor einer schwierigen Entscheidung: Sie müssen bestimmen, ob sie ihr Kind in die Schule schicken sollen, obwohl es noch gar nicht schulpflichtig ist. Experten halten es für falsch, den Nachwuchs zu lange zu behüten."