Sports

I know you did some of these things as a kid – House Gymnastics, for people who mastered sliding down the stairrail and are ready for some more adventurous moves.

Link via MetaFilter.
Hörspiel

Die Tetralogie Otherland von Tad Williams wird vom Hessischen Rundfunk und dem Hörverlag als Hörspiel produziert: Otherland – das Hörspiel. Das Hörspiel wird erst in einem halben Jahr gesendet und als CD veröffentlicht, aber gespannt bin ich jetzt schon. (Offenbar hatte ich schon früher davon gehört, es aber wieder vergessen. Und der Link von vor zweieinhalb Jahren funktioniert nicht mehr.)

Seit ich mit dem Auto fast eine Stunde Fahrtzeit zur Arbeit (und zurück) habe, bin ich auf den Geschmack von Hörbüchern und Hörspielen gekommen. Mein Autoradio hat ein Kassettenteil, und da die meisten Leute inzwischen CD-Spieler haben, sind die Hörbücher und -spiele bei der Stadtbibliothek nicht sehr gefragt, so dass ich immer eine interessante Auswahl finde. (Im Gegensatz dazu sind viele CDs dauernd ausgeliehen. Noch schlimmer ist es nur mit den Spielfilmen auf DVD, aber das ist wohl kein Wunder, wenn das Ausleihen dort weniger kostet als in der Videothek.)
Herr der Ringe Sprachen

Wer im Herrn der Ringe die Elbensprache Sindarin selbst übersetzen möchte, findet im Sindarin-Lexikon Hilfe. Neben dem Wörterbuch findet man auch Informationen zu Aussprache und Grammatik.

Für alles andere zu Tolkiens Werken verweise ich gern nochmal auf The Encyclopedia of Arda.
Technologie

Spiegel online: Mini-Optik: Flüssiglinse imitiert menschliches Auge. "Eine neuartige Optik soll die Welt der Mini-Kameras revolutionieren: Die Flüssiglinse besteht aus einer Wasserlösung und Öl, wird blitzschnell mit einem elektischen Feld eingestellt und spart Batteriestrom."
Heat wave in California?

I hear it is spring already in California… well, it looks like the weather in Bonn is far behind the season this year. This it what I saw when I looked out of the window this morning: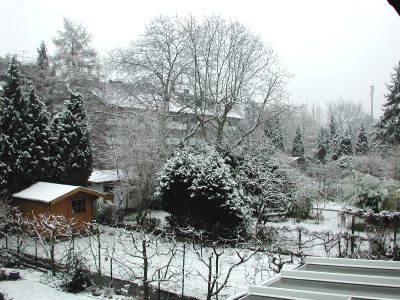 Community

It was Oliver's birthday a couple of days ago – herzlichen Glückwunsch!