Airplanes in the Desert

While in Arizona and New Mexico last summer, André and I visited the Pima Air and Space Museum and the Titan Missile Museum near Tucson, Arizona. (Thanks for these and other recommendations again, Sam DeVore!) Maybe we should also have gone on a tour of the Aerospace Maintenance and Regeneration Center nearby. This MetaFilter thread offers some information and great links. I especially liked the Sleeping Giants presentation (Flash required).
Telefonieren

Früher war alles einfacher, sogar das Telefonieren. Heute bereichern Dinge wie Mobiltelefone und ISDN unseren Alltag… Dazu zwei Artikel aus der Süddeutschen:
Tee mit Matratzen. "Seit Herr Fischer eine ISDN-Anlage besitzt, kann er seinen Mittagsschlaf in der Pfeife rauchen." Von Klaus Fischer.
Mein Handy sieht auch dich! "Wir halten sie fest, aber noch fester halten sie uns: Die neuen Mobilfunkgeräte sind die Konsolen unserer immer piepsenden Leben." Von Oliver Fuchs.
Links via Aufgelesen, das ich in meinen Referrern gefunden habe.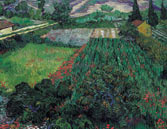 Kunst

Bevor ich es wieder vergesse: Am Tag nach Weihnachten war ich in der Kunsthalle Bremen und habe die Ausstellung van Gogh: Felder – Das Mohnfeld und der Künstlerstreit gesehen. Die Ausstellung versammelt u. a. viele der schönsten Ölgemälde van Goghs aus aller Welt. Die Ausstellung ist noch bis zum 26. Januar zu sehen, und wer bis dahin noch nach Bremen kommt, sollte sie sich nicht entgehen lassen.
Aber Zeit muß man wohl mitbringen: Am 27. Dezember reichte die Schlange am Eingang etwa 100 m die Straße hinunter. Mitarbeiter der Kunsthalle empfohlen den Bremern, doch später wiederzukommen, es sei bis 22 Uhr geöffnet. Die Eintrittspreise und Öffnungzeiten erfährt man hier.
Das Gemälde, das mir am besten gefallen hat, war übrigens das erste ausgestellte Ölgemälde mit dem Titel Der Garten des St. Paul Hospitals in St. Rémy, das normalerweise im Kröller-Müller-Museum in Otterlo hängt und in Wirklichkeit viel besser aussieht.