Phoenix or Bust!

Four weeks from today, André and I will fly from Frankfurt via London-Gattwick to Phoenix, AZ for a four-week vacation. Like the last time, we will hit the road with a rental car and visit a couple of national parks and similar sites. This time we plan to cover mainly Arizona and New Mexico.
If you live in or near these two states and would like to get together with André and me in August, feel free to get in touch. We just might show up in your neighborhood.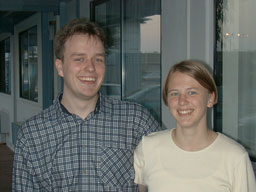 (9/3/1999 in San Francisco, CA, photographed by Bob Bierman)
---
Mathematics

New York Times (free registration required): 143-Year-Old Problem Still Has Mathematicians Guessing. By Bruce Schechter, author of My Brain is Open: The Mathematical Journeys of Paul Erdös.

Link via Garret and Jeff.