Raumfahrt

Gerade habe ich den ersten Teil von A Man on the Moon von Andrew Chaikin zuende gelesen. Passend dazu fand ich bei Engelbert einen Link zu Astris.de, einer Site über Raumfahrt und Astronomie.

Über das Apollo-Programm, das aus 17 Missionen bestand, gibt es auch eine Seite. Von den 17 Missionen waren 11 bemannt, sechs landeten auf dem Mond. Am bekanntesten düften Apollo 11 und 13 sein: erstere, weil es die erste Landung auf dem Mond war (Neil Armstrong/Buzz Aldrin), letztere durch die Verfilmung mit Tom Hanks als Jim Lovell – "Houston, we have a problem!"
Sehr viel mehr Informationen als Astris.de bieten zum Beispiel Raumfahrtgeschichte.de, Astronomie.de oder direkt bei den Experten, z. B. bei der NASA, der ESA oder der DLR.
Chickens in the Opera

It seems I have to read MetaFilter in order to hear about the latest news from Bonn, my hometown:

Live chickens slaughtered during opera.

It's strange that I couldn't find anything about this in the local newspaper…
Groundhog Day

February 2 is Groundhog Day. Punxsutawney Phil will come out of his den in Punxsutawney, Pennsylvania today. If he can see his shadow, this means six more weeks of winter. If he doesn't, it means the winter is going to end soon.

If there was a groundhog in Bonn, it would certainly be able to see its shadow today. The weather forecast predicts 18°C (64°F) for this afternoon!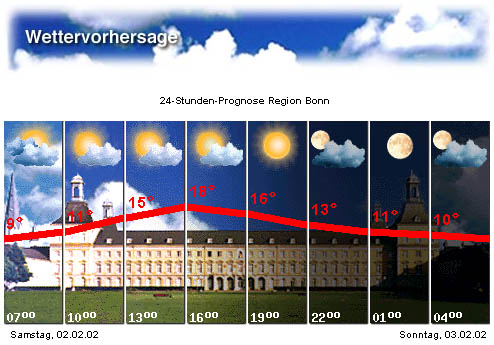 I think we're going to go on a bike excursion today (before the weather gets worse again).
Computer in der Schule

Heise Newsticker: Apple will in die Klassenzimmer rollen, und zwar mit dem Wireless Mobile Classroom. Das ganze ist demnächst in Köln auf der Kölner Bildungsmesse zu bewundern, die mein Studienseminar (ja, alle 150 Referendare) besuchen wird.

Link via Schockwellenreiter.