Aprilscherz

I think this is my favourite prank so far.
April Fool

By the way, is it because April 1 that I can only reach half the ETP blogs?
Damn. April 1 is almost over. Ever since April 1, 2000, I thought I would think of something really funny for today. But I didn't. So it's a normal posting – and a late one, too. Somehow I don't seem to be quick enough these days…
Anniversary

Yesterday, BookNotes turned one year old. Congratulations, Craig! And what a great idea for a weblog birthday to post a list of highlights, although I'm not sure this was a highlight…

However, I would definitely consider our meeting in Koblenz among the highlights, and BookNotes is definitely among the weblogs I enjoy reading every day. Thanks, Craig!
3. Bonner Museumsnacht

Gestern abend war ich tatsächlich in mehreren Museen unterwegs. Es war einiges los (je später der Abend, desto voller die Museen…), aber es war auch sehr interessant. Fotos gibt's leider keine, denn meine Digitalkamera ist noch in England…
[Update 11. Mai 2001: Dieses Foto zeigt das Arithmeum in der Museumsnacht; die Aufnahme entstand mit meiner Canon Prima 115.]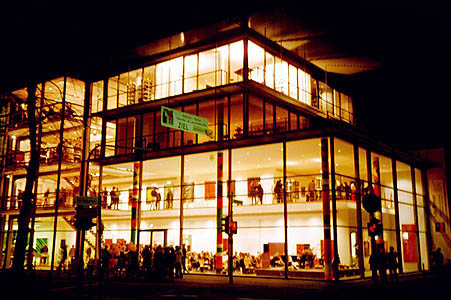 Zuerst besuchte ich im Arithmeum die Eröffnung der Ausstellung diskret und geheim. Neben der legendären Enigma gab es noch einige andere Chiffriermaschinen zu sehen. Das Highlight war aber der Vortrag von Prof. Friedrich Bauer zum Thema Die Komödie der Irrungen in der Kryptologie. Er hat erklärt, wie die Enigma funktioniert und dann im einzelnen erläutert, woran es lag, daß mit ihr verschlüsselte Nachrichten doch nicht so sicher waren, wie die Deutschen im 2. Weltkrieg angenommen hatten…
Dann ging's weiter ins Ägyptische Museum. Als ich um ca. 20 Uhr dort ankam, gab es vor der Kasse schon eine ansehnliche Warteschlange, aber nach 10 Minuten war ich drin. (Als ich eine Stunde später wieder herauskam, war die Schlange schon fünf Mal so lang!) Die Ausstellung ist sehr interessant, aber mit mehr Details will ich hier nicht langweilen.
Um kurz nach neun fuhr ich dann mit der Museumslinie weiter zum Deutschen Museum Bonn, wo eine Kriminacht stattfand. Ich bekam noch den Rest einer Diskussionsrunde mit, in der Kriminalbeamte, Polizisten und Gerichtsmediziner Fragen aus dem Publikum beantworteten, dann folgte ein einstündiger Vortrag von Mark Benecke, seines Zeichens forensischer Entomologe. Er verstand es, sehr amüsant von seiner Arbeit zu erzählen, die ja eigentlich eine sehr ernste ist. Er wird immer dann von der Kriminalpolizei (oder entsprechenden Stellen im Ausland, weltweit) hinzugezogen, wenn eine schon etwas ältere Leiche gefunden wird. Anhand der auf, in oder bei der Leiche gefundenen Insekten kann er auf den ungefähren Todeszeitpunkt oder auch die Ursache schließen. Beneckes Website (in Englisch/Deutsch) ist reich an Informationen.