For the trip I borrowed my father's SLR camera. It's a semi-automatic Konica FC-1 with a 40mm and an 80-200mm lens. I used 100 and 200 ASA slide films. During the trip, I took 461 photos, 100 of which I selected for this travel journal.
Instead of having a PhotoCD made, I decided to try to digitize the photos myself, so I set up the slide projector and took photos of the images with my digital camera, a Nikon Coolpix 990.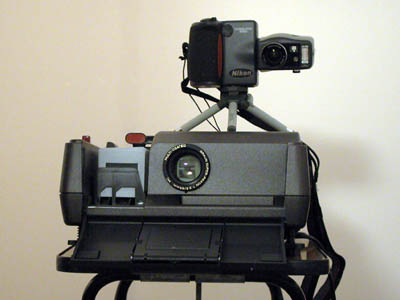 After transferring the digital images to my computer, I worked on the photos with Photoshop 4.0. I cropped many of the photos and resized them to a width (or height) of 580 pixels. I removed dust and scratches, adjusted levels, brightness and saturation and sharpened some of them.
I have to admit that the quality of the images ist not as high as the photos from the trip to the USA, but this is, after all, a web journal, not a glossy coffee-table photo book. Part of the quality, however, is due to the original photos: Some of them are blurry because it's not easy to capture animals on film when they are moving, or when you're in a moving vehicle, as I was most of the time.
---
Days: 1 | 2 | 3 | 4 | 5 | 6 | 7 | 8 | 9 | 10 | 11 | 12 | 13 | 14 | 15 | 16 | 17 | 18 | 19 | 20 | 21 | 22 | 23 | 24 | 25 | 26 | 27 | 28 | 29 | 30 | 31 | 32