Berlin

I recently discovered that all the photos were gone from our trip to Berlin because I had uploaded them to the server at the University. I'm in the process of re-uploading those photos and changing the links to the photos right now. The first page is done and the rest will probably follow tomorrow, but if you like you can see all 88 photos as a slideshow. Enjoy!
Marathon training

The Mittelrhein Marathon is tomorrow in a month. I posted about it twice before, and Jörg requested photos. Today I skated my usual 20 km from Ochtendung to Polch and back (mentioned previously) and took a few quick breaks to take some photos. I didn't take the Coolpix (much too dangerous!), so I had to use the camera in my cellphone, which is pretty crappy. It takes stamp-sized photos, and here they are: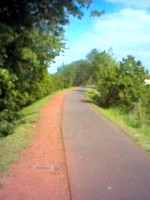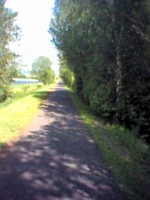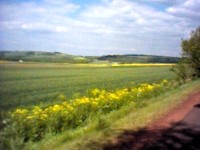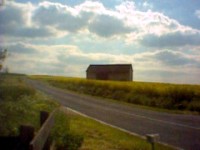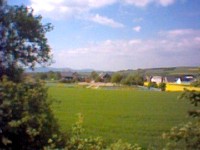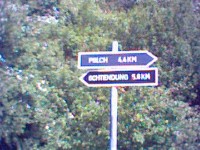 The signs say "Polch 4.4 km" and "Ochtendung 5.6 km".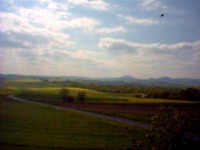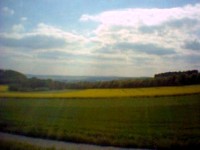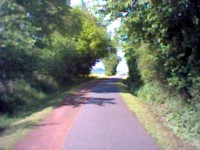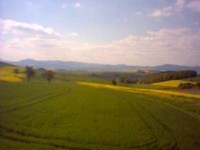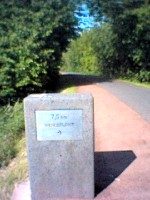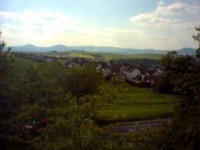 "7.5 km Wendepunkt" – there are markers every 2.5 km along the way.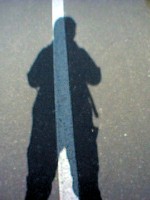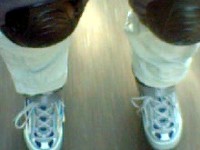 Die letzten beiden Bilder sind extra für Dich, Jörg!

It's a pity that you can't really see in these photos how beautiful the surrounding landscape is. I think I'll have to go there again with my proper camera on a nice day and take some real photos.
And in case you were wondering how my training is coming along: I try to skate two or even three times a week, at least 20 km each time. I'm not really getting any faster, but get less groggy after training, so I guess that's something. I'm aiming for finishing in under three hours, and anything near two and a half would be marvellous. However, I'm afraid that we will have headwind along the Rhine, so I'm not really sure if I'll be able to skate as fast as I do during training.
Lehrer

Obwohl ich meinen Beruf sehr mag, gibt es etwas, das ich nicht sehr gern tue, und das ist Korrigieren. Mir ist bewusst, dass ich mit meinen Fächern da noch gut dran bin, da man in Mathematik in der Regel klar entscheiden kann, ob etwas richtig oder falsch ist, und eine Punktewertung verwenden kann. Physik ist in der Mittelstufe "nur" ein Nebenfach, in dem Fach gibt es also nur in der Oberstufe Klausuren und ansonsten schriftliche Hausaufgabenüberprüfungen und Tests.
Trotzdem gehört das Korrigieren zu den eher zähen und nicht gerade abwechslungsreichen oder spannenden Aspekten des Berufes. Mit meiner Meinung bin ich aber zum Glück nicht allein, wie mir der Lehrerfreund ("Du brauchst einen Freund.") versichtert:
"Am 10. April 2005 (Gipfel der Abikorrekturen) baten wir die AbonnentInnen des Lehrerfreund-Newsletters in einem beispiellosen Wettbewerb um Hinweise, wie man mit dem Korrekturstress am besten umgeht. Auszüge aus den besten Einsendungen."
[Anmerkung: In Rheinland-Pfalz findet das schriftliche Abitur bereits im Januar oder Februar statt, weil die Abiturienten bereits im März entlassen werden.]
Meine Strategie: Nach Möglichkeit alles am Stück korrigieren, zumindest bei den Arbeiten in höheren Klassen aufgabenweise. Bei den Kleinen in der Fünf sind die Arbeiten noch so kurz, dass man auch beim schülerweisen Korrigieren noch den Überblick behält, wo man wofür wieviel Punkte abgezogen hat oder wie man bestimmte Kleinigkeiten handhabt. Schließlich soll ja alles möglichst gerecht korrigiert werden.
Und da fällt mir ein: Jetzt muss ich noch eine Mathematikarbeit zuende planen, die ich übermorgen schreiben werde. Damit ist die Beschäftigung am Wochenende dann gesichert.