Sunset on October 24th, 2004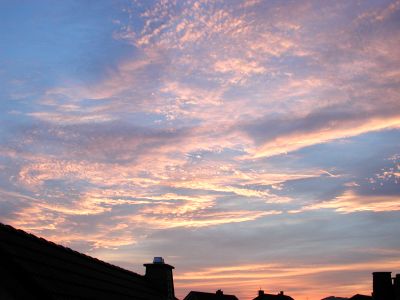 Elektromotor ganz einfach

Eigentlich könnte ich diesen Link auch unten unter Wissenschaft einsortieren, aber sowas cooles verdient eine eigene Überschrift: Joachim Schlichting und Christian Ucke (in der PhiuZ 6/2004): Der einfachste Elektromotor der Welt (Link zur PDF-Version auf C. Uckes Website). Natürlich habe ich gleich ausprobiert, einen zu bauen, aber leider sind meine NdFeB-Magnete zu klein und daher nicht stark genug. Da wird mir aber sicher Supermagnete.de weiterhelfen können – siehe unten.

Dr. H. Joachim Schlichting ist Professor für Didaktik der Physik an der Uni Münster (siehe dazu Veröffentlichungen unter Spielwiese in der PhiuZ; Dr. Christian Ucke ist Physik-Dozent an der Uni München.
Cooking / Kochen
Gestern hatten wir Hähnchen mit Karotten, Paprika, Frühlingszwiebeln und Bambussprossen in Kokosmilch mit grüner Currypaste (von Gourmondo) – höllisch scharf, aber sehr lecker!
Science and School / Wissenschaft und Schule
Li-Ion Batteries

Some info so the next laptop battery will last longer:
Useful / Nützlich
Just plain crazy

… is the world's first jet-powered beer-cooler. Need I say more?