Sunny autumn sunday
Last Sunday felt like one of the last late summer days, so I went on a little bike tour with a friend. We went down into Andernach and then followed the Rhine upstream all the way to Neuwied, which is the next town on the other side of the river. The leaves on some trees are starting to turn yellow.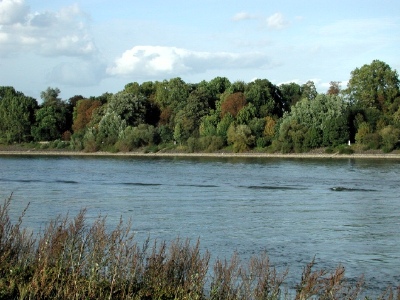 In the next photo you can see one of the two only bridge across the Rhine between Bonn and Koblenz (the other is the Autobahn A48 crossing the river). In the background you can see the cooling tower of the nuclear power plant in Mülheim-Kärlich.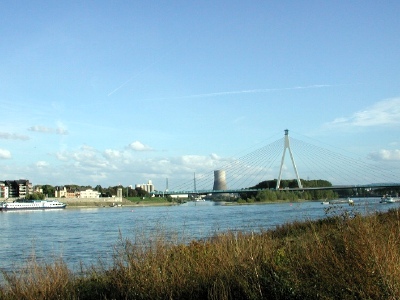 Otherland-Hörspiel

Heute startet, von mir seit Monaten erwartet, die Hörspielserie Otherland nach der gleichnamigen Tetralogie von Tad Williams auf hr2. Wer das Buch gelesen hat, weiß, worauf er sich freuen kann, und wer die Geschichte noch nicht kennt, sollte zumindest mal 'reinhören.
hr2 sendet die ersten sechs Folgen jeweils sonntags um 14:05 Uhr; vom 25. bis 30. Dezember werden sie auch auf YOU FM als Weihnachts-Special gesendet. Und seit einigen Tagen kann man den ersten Band Stadt der goldenen Schatten (umfasst die ersten sechs Folgen) auch auf CD im Buchhandel erwerben (bei Amazon.de übrigens momentan um 20% preisreduziert). Hörproben im RealMedia-Format gibt es ganz unten auf dieser Seite bei hr2.
Ich bin schon sehr gespannt auf die Hörspieladaption; ein unglaublicher Aufwand wurde jedenfalls dafür betrieben, und 24 Stunden Gesamtlaufzeit ist sehr viel, sogar für ein vierbändiges Werk mit insgesamt etwa dreieinhalbtausend Seiten. Aus dem Hörbuch-Verlag kenne ich u. a. die Hörspielfassungen von Der Hobbit und Der Herr der Ringe, welche meines Erachtens beide sehr gelungen sind – das lässt darauf hoffen, dass selbst hohe Erwartungen nicht enttäuscht werden.
Update: Der erste Teil ist vorbei und hat mir gut gefallen… ich bin gespannt auf nächste Woche. Im Moment läuft gerade ein Werkstattbericht zur Entstehung des Hörspiels.