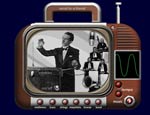 Theremin

Industrial Technology & Witchcraft: Völlig aus der Luft gegriffen: das Theremin. Mehr Informationen über dieses seltsame Instrument gibt es auf englisch:

theremin .info:
"Invented in 1919 by the Russian engineer Leon Theremin, the theremin brought the possibility of producing music by purely electronic means to reality.

The first electronic musical instrument to be invented, the theremin captured that spirit of free – thinking optimism of America in the 1930s, and held the musical world enthralled…"
The site includes the history of the theremin, sound clips and videos and much more.

If you'd like to play the theremin yourself, go to BBC's Science Playground and download the Virtual Theremin (available for PC and Mac). It's fun to play with!

I linked to another theremin site before: Radio Science Orchestra: theremin laboratory.

Link via Schockwellenreiter.
Personal

I've neglected this weblog a lot lately, and it doesn't look like I'll be able to post more often in the near future. Today was the third day of the holidays, but I'm almost as busy as before. The only significant difference is that I get more than five hours of sleep a night now.