Tuesday, September 7, 1999
We got up at 6:30. Jason had left for work an hour earlier, and we had breakfast with Jennifer and Jay. We said goodbye at around 8:00 when Jennifer had to go to work.

Before driving to Twentynine Palms, we went to Hesperia to have a look at the house where Jennifer's family used to live in 1992 and drove past the school. I remembered the school, but would hardly have recognized the house.
We arrived at Twentynine Palms before noon, rented a motel room and drove on, into Joshua Tree National Park. We bought a Golden Eagle Pass (which allows you to visit all National Parks, National Recreation Areas etc. for one year) and entered the park. It was awfully hot, but we turned on the air-conditioning and were fine – at least in the car.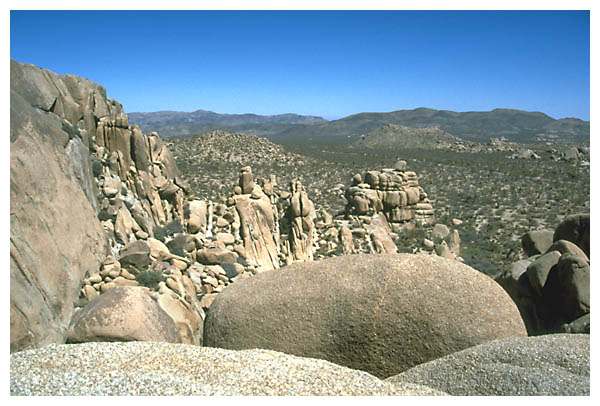 Our first stop was at the huge rocks of the Pinto Wye Arrastra in the northern part of the park. After our experience of the day before, we climbed the rocks although I feared we wouldn't be able to get back down — but we did. Then we drove on to Hidden Valley where we had a picknick lunch under a tree in what little shadow there was.

Then we went to Keys View and climbed the Inspriration peak. It was so hot! But the view was worth it. To the south, we could see as far as Salton Sea, and the smog wafting over from Los Angeles was all too visible.
Somewhere on the road to the southern part of the park, we saw coyotes lying in the shadow. They were not disturbed by cars at all, so some cars passed them without noticing there were coyotes lying at the roadside.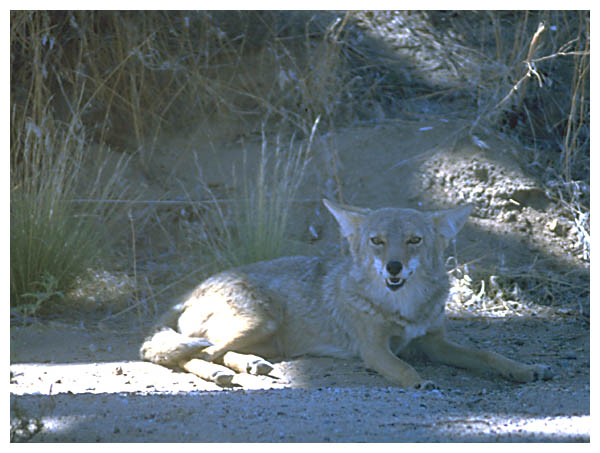 At the "border" between the Mojave Desert (in the north) and the Colorado Desert (in the south) we stopped at the Cholla Cactus Garden, a beautiful site with many Cholla and other cactuses. There was a trail with little signs that explained the different plants.
Here's a typical Cholla cactus: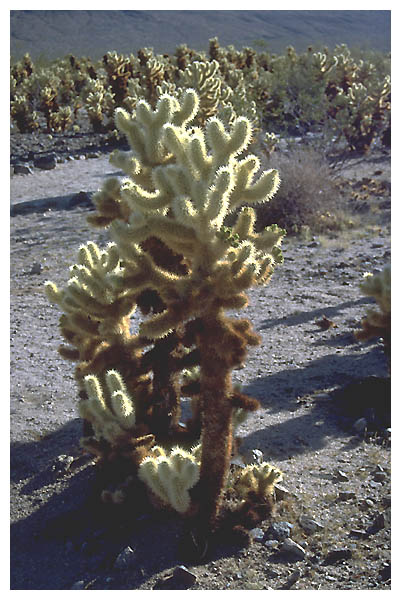 The Cholla are not burnt in the lower parts. The brown part of the plant is the oldest, and that's why it is darker than the rest. Did you know they have some kind of wooden structure inside? I didn't, but here it is: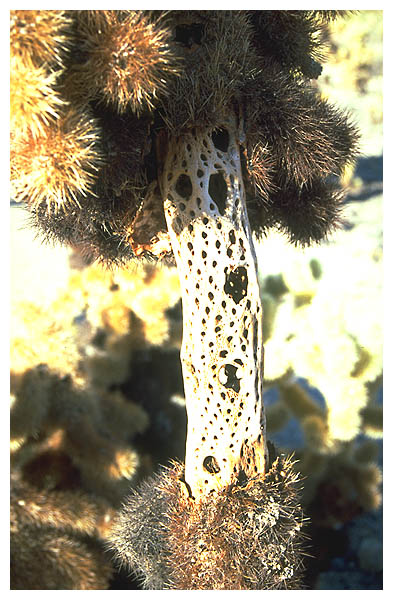 Driving further south, we encountered this strange plant called ocotillo. I think it's beautiful, even more so when it's blooming! In fact, this is one of the best photos we took (We have 800 slides from our trip!).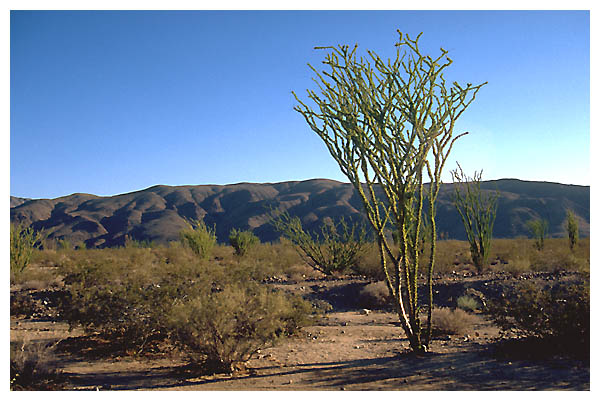 We left Joshua Tree at the South Entrance and went to Palm Springs. But it was almost dark when we arrived there. We didn't see much of the city, but had some hamburgers for dinner and then drove back to Twentynine Palms and went straight to bed.
---
Previous | Next

Index | Camera | Map
1 | 2 | 3 | 4 | 5 | 6 | 7 | 8 | 9 | 10 | 11 | 12 | 13 | 14 | 15 | 16 | 17 | 18 | 19 | 20 | 21 | 22 | 23 | 24 | 25 | 26 | 27 | 28 | 29 | 30