Wedesday, September 22, 1999
We got up at seven, had some sandwiches for breakfast and headed west. We planned to get as close as possible to Yosemite, our next destination.

The Interstate 15 led us to Las Vegas. There, we changed to Highway 95 North. We reached the Nevada-Californian border in the afternoon and had to answer some questions for the Department of Agriculture at a little station. Where do we come from? Germany. No, where did we start today? Oh, Utah. Did we have any fruit, vegetables, or live animals in the car? No, no, no. Okay, we're allowed to enter California. This is a weird country…
At around 4:30 pm we reached Lee Vining and the Mono Lake Tufa State Reserve. We got a room for the night and went to see the lake. There was a brand-new Visitor Center, but it was already closed for the day. At least, there were some information boards outside. There also was a little trail, I think with information about the plants near Mono Lake.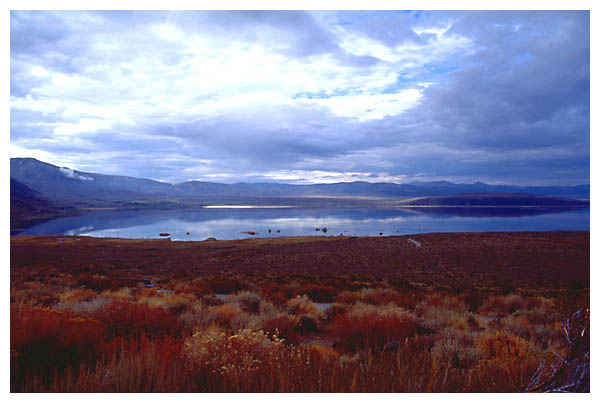 The atmosphere at the lake was eerie. It was very quiet, no other tourists beside us, and because of the thick clouds in the sky it was almost twilight. The lake itself looked alien somehow, strange, like a different planet.
We went to the South Tufa Area near Lee Vining. You could walk to the shore, where the sand was full of tiny black flies. With every step you stirred up clouds of them like sand. There was also a strange smell in the air, hard to describe. The water smelled of salt and algae, but totally different from the sea, of course.
And the tufa were the strangest part of the scenery. They were formed under water, before the lake level dropped.

Back in the early decades of the century, the level of the lake was some 40 ft higher than today. In 1941, Los Angeles began to divert four of the five streams that feed Mono Lake. Thus, the lake level dropped and the salinity of the water doubled. This endangered the ecosystem of the lake, which provides a spot for hundreds of thousands of birds during migration. Also, brine shrimp and algae live in the lake that are not found anywhere else on earth. These are some of the reasons why it is necessary to preserve the lake from further damage. In 1994 it has been agreed to raise the lake level by 17 ft during the next 20 years – not quite back to what it was once, but it's a step in the right direction.
Because the lake level will not be as high as it was until 1941, the tufa will still be visible. They were formed from calcium carbonate by the salty lake water and freshwater springs that once were below lake level. Fresh water which contains calcium will rise up into the carbonate-containing lake water, and both minerals combine and form those strange-looking rocks. Then the lake level dropped and exposed the tufa which stopped to grow at that point.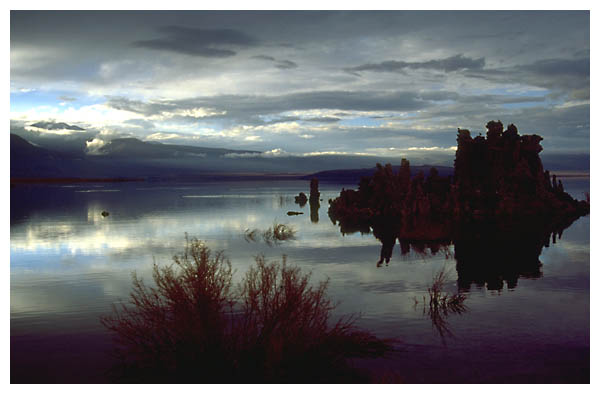 What a strange and yet peaceful view!
Before it got dark, we also went to visit Panum Crater in the Mono Basin National Forest Scenic Area, but there was not much to see…
We went back to Lee Vining after the sun had set and had dinner at Nicely's before going to bed early. Tomorrow we will cross Tioga Pass into Yosemite.
---
Previous | Next

Index | Camera | Map
1 | 2 | 3 | 4 | 5 | 6 | 7 | 8 | 9 | 10 | 11 | 12 | 13 | 14 | 15 | 16 | 17 | 18 | 19 | 20 | 21 | 22 | 23 | 24 | 25 | 26 | 27 | 28 | 29 | 30