Sunday, September 5, 1999
We got up at six and packed our things, then had breakfast (tea and muffins) and started towards Highway 1. We had read and heard that the coast was very beautiful, but we could hardly see anything because it was all foggy!

We stopped after driving through Carmel-by-the-Sea. There was a little path thad led from the parking lot to the cliffs.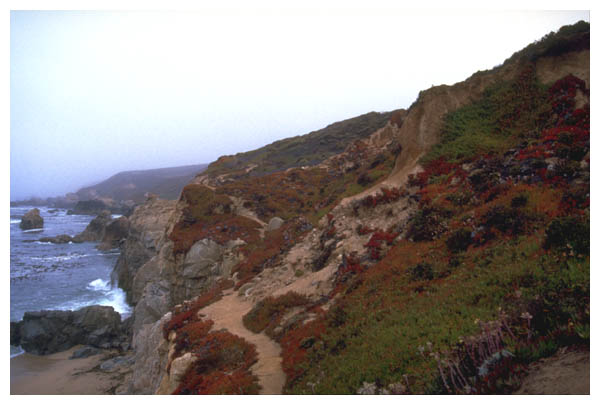 The waves were high, and we could hear seals or sea lions, but didn't see any.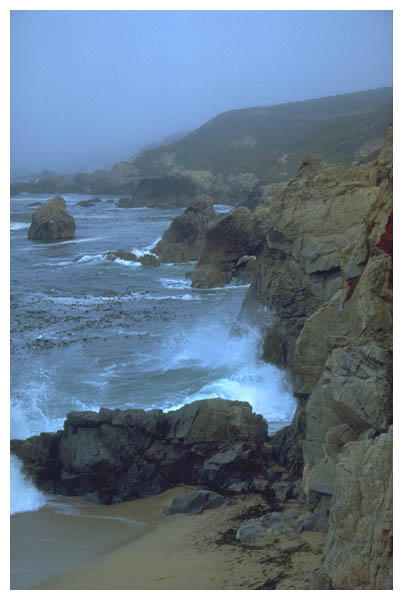 Then we drove on, stopping here and there. It was foggy all morning, but sometimes the road was high enough so we were above the fog where it was all sunny!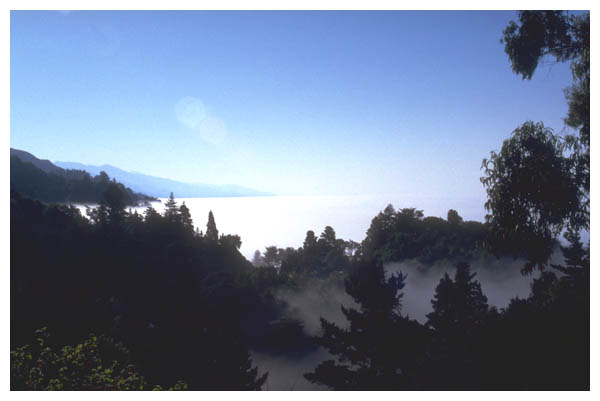 On this picture, you can't see the sea. What looks like water is actually the fog!

Or next "real" stop was a few miles north of San Simeon. Our guidebook said there were beaches where you could watch seals, and yes – there were dozens!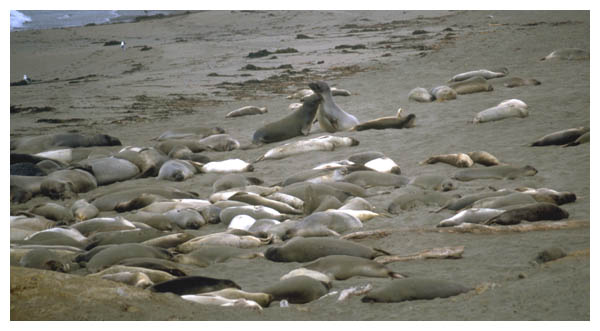 We could actually get as close as 30 ft (10 m) without disturbing them, and some people tried to get even closer. The seals just lay there, ignoring the watching people, and snuggled close to each other or into the seaweed, and some were really cute!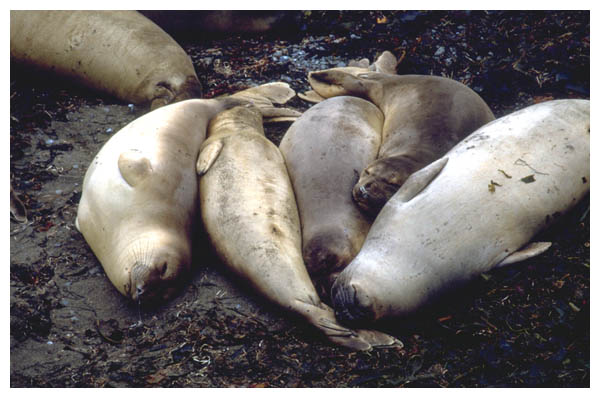 In San Luis Obispo, we left Highway 1, had some sandwiches for lunch and turned east onto Highway 58. Right outside of San Luis Obispo we saw a sign: "Next services 80 miles"…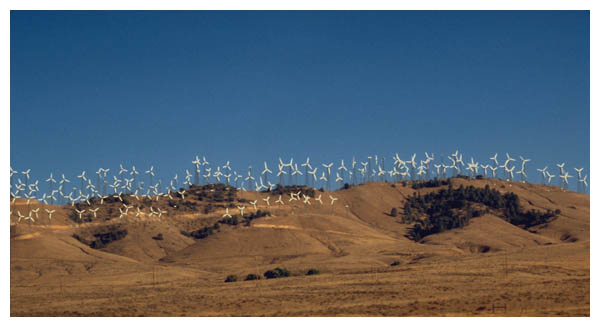 The road was winding through the hills, and there was dry yellow grass everywhere. It was so lonely! We hardly saw other cars, and the few we encountered seemed to be local people. No tourists with rental cars besides us!

We got a little nervous when the needle of our fuel gauge went down, down… then up again, but then down… It seemed like it depended on whether we were driving uphill or downhill, but we were not sure how much gas was actually left. When we got really nervous, we even turned off the air-conditioning. It was awfully hot! At that point, I began to understand why everybody has a car with air-conditioning in California.

Finally, we reached Buttonwillow and stopped at the first gas station. Phew!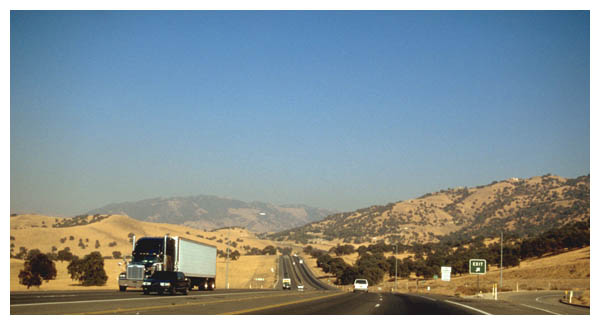 At Four Corners we turned south onto Highway 395, heading for Adelanto and finally reached Apple Valley. It didn't take long to find the street and then the house where Jennifer and Jason live.
In 1992, I went to Hesperia (a neighbor town of Apple Valley) on a highschool exchange, and I stayed with Jennifer, her parents and six sisters and brothers for five weeks. Since then, Jennifer and I have written letters back and fourth, but she was very surprised when I called her in August and asked if we could visit her next month. She's been married for two years, and they have a little son, Jason (Jay).
It was nice to see her again after seven years and meet her husband and son! That evening, we didn't do much. We went for a short walk in their neighborhood and had Jason's special whatever-they-were-called sandwiches for dinner and tried to decide what to do the next day. It was Labor day, so both Jennifer's and Jason's family had planned something and offered that we could come and participate, but finally we decided to go repelling in the morning, visit Jason's grandparents, who were having a barbeque, in the afternoon and visit Jennifer's parents in the evening.
---
Previous | Next

Index | Camera | Map
1 | 2 | 3 | 4 | 5 | 6 | 7 | 8 | 9 | 10 | 11 | 12 | 13 | 14 | 15 | 16 | 17 | 18 | 19 | 20 | 21 | 22 | 23 | 24 | 25 | 26 | 27 | 28 | 29 | 30