Saturday, September 25, 1999
We got up at eight. We had to return the rental car at the SFO International airport this evening (or early the next morning), so we had to pack up all the stuff we had in the car. Surprisingly, it all still fit into our backpacks!
Then we bought sandwiches for breakfast and ate them at the lovely Merced River in Yosemite Valley.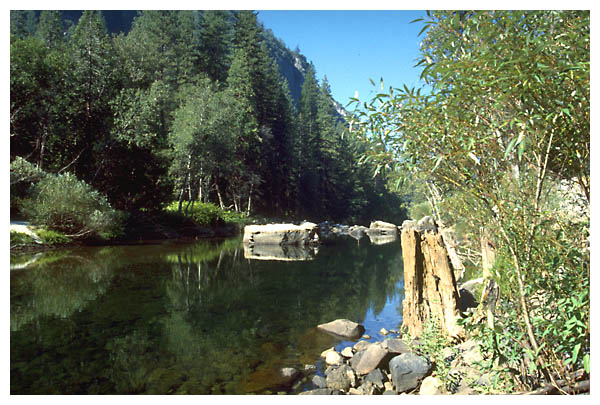 Isn't it a beautiful place for breakfast?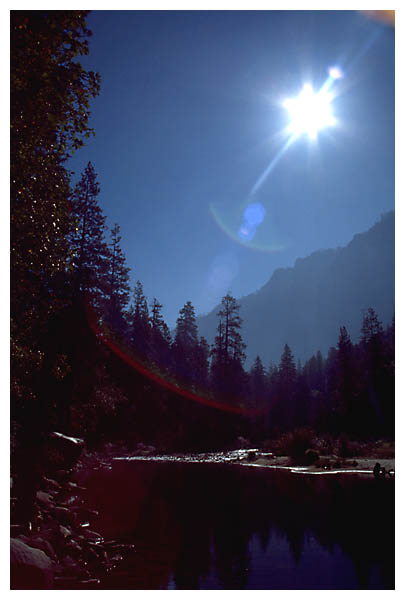 After breakfast, we drove to Oakland and spent two hours lying in the sun at Lake Merritt. Then we went back to San Francisco via the Oakland Bay Bridge. We went south to the airport and stopped at gas station and a car wash. Then we returned the car to the airport, confirmed our flights back and took a shuttle bus back into San Francisco. There were five other people besides us in the shuttle, so the driver had to sort out six different adresses. It seemed he was new in town, or at least new to driving a shuttle because it took quite a while before he reached the first destination. It took two hours (!) to get to our hotel on Bush Street, three blocks from Union Square.
We only had a brief look at our room before we went out to have dinner. Across the street from our hotel, there was an Italian Restaurant called Uncle Vito's. It looked inviting, and the pizza proved to be very good. Recommended!
---
Previous | Next

Index | Camera | Map
1 | 2 | 3 | 4 | 5 | 6 | 7 | 8 | 9 | 10 | 11 | 12 | 13 | 14 | 15 | 16 | 17 | 18 | 19 | 20 | 21 | 22 | 23 | 24 | 25 | 26 | 27 | 28 | 29 | 30