Monday, September 20, 1999
We left Kanab in the morning and headed for Zion National Park. We entered the park from the east, stopped briefly at the Checkerboard Mesa and went on through the park until we reached Springdale, which is half a mile south of the park. There, we got a nice room at the Canyon Ranch Motel. The hotel consists of several buildings, each housing two or four rooms. They are arranged around a green yard with rocking benches and a swimming pool with hot tub. What a nice place! While I was looking around, I saw three mule deer at the back of the property: a doe and two fawns, I believe. They were grazing, and I didn't dare get too close because I didn't want to frighten them.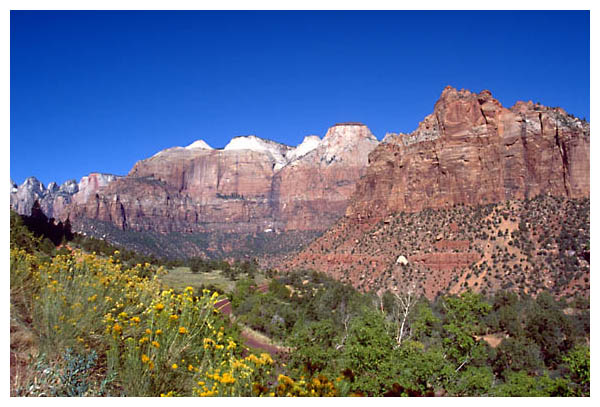 Now we went back into the park and stopped at the Visitor Center first. They had many interesting talks, so we stayed for a while. First, we saw a short slide show about the park, then attended a talk about coyotes and an hour later one about fossils. Finally, we wanted to see the park itself, so we went on to the Scenic Drive that leads into Zion Canyon. It was the most crowded park we had seen so far! There were lots of cars and buses, and some parking lots were full, so people had to wait or go on. Fortunately, they already planned a shuttle bus service for Zion like the one on the South Rim of Grand Canyon. Zion receives about 2.5 million visitors each year, while 5 million visit Grand Canyon, but Zion is much smaller.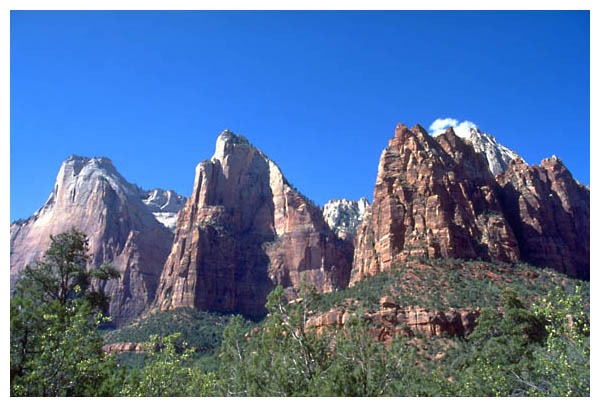 We stopped at the Court of the Patriarchs first, then went on to the Temple of Sinawava at the end of the road. The road ends at a parking lot from which a paved path leads into the Narrows of which we had heard from the American we had met at Canyonlands. And here we met – the very person who had recommended visiting the Narrows to us! He was just coming back from a little walk in the river and was happy to see we were about to follow his advice and visit this beautiful place.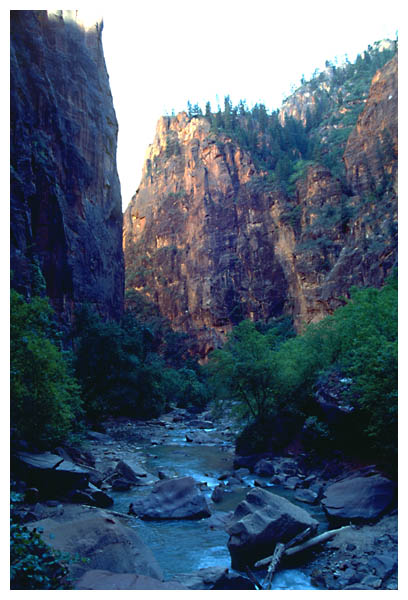 Here's a photo of the Narrows we took on our way back.
We drove back towards the Visitor Center and stopped once more at a view point with a picnic area. From that view point, there was a path leading up on Angel's Landing, one of the large cliffs in Zion. We thought about hiking to the top the next day and wanted to find out how long it would take to do that.
Now guess who was there at the picnic area? The American from the Narrows! We finally introduced ourselves, and his name was Owen. We laughed about the coincidence to meet several times in different National Parks and chatted a bit.

Owen was about to cook his dinner and invited us to join him. For him, it was grilled steak and asparagus for dinner, but he had not planned on any visitors, so we got sandwiches with bacon (which were good!), and we all had canned fruit and cookies for dessert.
We talked about what places we had each visited since our first meeting at Canyonlands, and Owen told us of his adventures of the day. He had climbed Angel's Landing in Zion the previous day – a hike that is quite strenuous, but well worth the effort, as he assured us. He had done it at least once before during an earlier visit to the park, and this time he had taken his video camera so he could show us a bit of the tour on the tiny display of the camera. Somewhere up there, he and some other hikers had discovered a huge spider which had scared them some, and I began to wonder whether I really wanted to hike up there. But he said it was one of the best things to do in Zion, so we decided to go anyway.
Among other subjects, we talked about traveling, and he told us of his trips to Utah, his favourite place to visit when on vacation. Owen had visited all the National Parks in the area, I believe, and most of them several times. He drove a pickup truck and had camping gear, food and firewood with him so he was quite independent. A nice way of traveling!
When we returned to the hotel, it was not yet dark, and we decided to try out the swimming pool. It was refreshing to jump into the cool pool first, then warm up in the tub and jump into the pool once more.
---
Previous | Next

Index | Camera | Map
1 | 2 | 3 | 4 | 5 | 6 | 7 | 8 | 9 | 10 | 11 | 12 | 13 | 14 | 15 | 16 | 17 | 18 | 19 | 20 | 21 | 22 | 23 | 24 | 25 | 26 | 27 | 28 | 29 | 30