Saturday, September 18, 1999
We got up at seven in order to be in time for an early-morning walk into Bryce Canyon. By the way, Bryce is not really a canyon because a canyon normally is formed by a river. Bryce Canyon is the eroded rim of the Paunsaugunt Plateau. It is named after an early settler, Ebenezer Bryce, and people just started calling it "Bryce Canyon".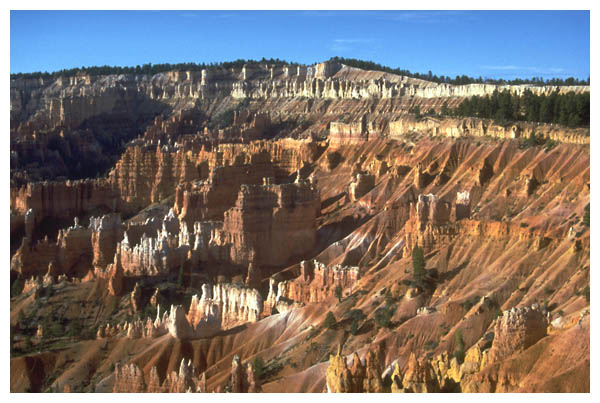 Okay, back to our walk, which started at 8:30 am. As you can see in the photo, it was sunny and very beautiful outside. The ranger, a former teacher, told us that this was normal weather in Bryce for this time of year. He called it the "rain season": sunny mornings, clouds at noon, showers and maybe a thunderstorm at about 2 pm, sunny again later in the afternoon. We found that this was correct for both days we spent at Bryce.
The walk took us down into the "canyon" from Sunrise Point. After two and a half hours, we reached Queen's Garden. The name refers to a hoodoo that looks like Queen Victoria which can be seen from Queen's Garden.

While we were walking, the ranger talked a lot about the different trees and other plants in the park and taught us little verses about how to tell the different kinds of pines apart. (You could tell he used to be a teacher.

)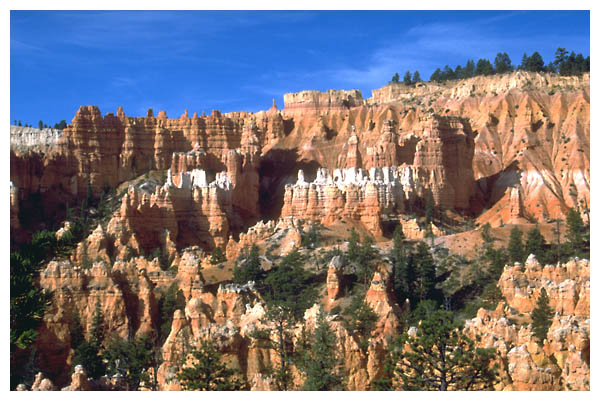 The guided walk ended at Queen's Garden, but we didn't walk back the same way. Instead, we followed a suggestion from the ranger and walked back on the Navajo Loop which led through the pine forests down in the canyon. When we stopped briefly to drink some water and set our backpack down on the ground, two chipmunks appeared. It seemed they wanted to check out whether we had some cookies or whatever for them. When they realized we were not going to give them any food, they ran away quickly.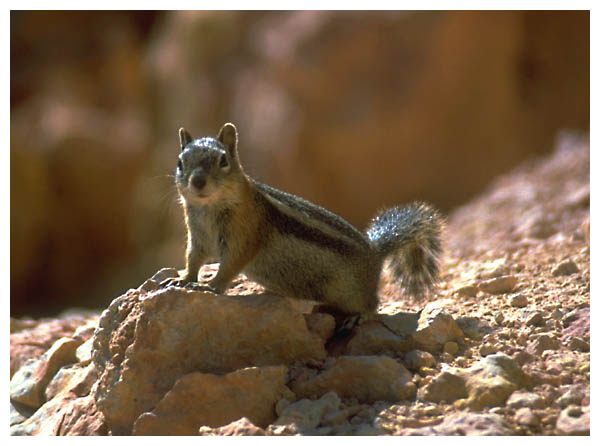 The Navajo Loop ended at Sunset Point, from which a paved path leads back to Sunrise Point. While we were making our way back up, clouds had appeared in the sky and got bigger and heavier. The first drops of rain fell as we reached our car…
The thunderstorm lasted for about two hours, and we spent the time in the Visitor Center and wrote some postcards home.
At 3 pm, we attended a talk in the auditorium of Bryce Canyon Lodge. Since the sun had come out again by the time the talk was over, we went to Rainbow Point once more, this time for a walk along Bristlecone Loop to Yovimpa Point.
We had some hamburgers for dinner at Ruby's Inn just outside the park. After dinner, we took a road to Fairyland Point that branched off the main road before the actual entrance. In the evening, we attended yet another talk, this time about the history of the National Park Service in general. The ranger also told us about his job. I think you really have to love your job if you accept the hard work during the summer, then be unemployed during the winter and having to move to different National Parks all the time…
---
Previous | Next

Index | Camera | Map
1 | 2 | 3 | 4 | 5 | 6 | 7 | 8 | 9 | 10 | 11 | 12 | 13 | 14 | 15 | 16 | 17 | 18 | 19 | 20 | 21 | 22 | 23 | 24 | 25 | 26 | 27 | 28 | 29 | 30