Tuesday, September 14, 1999
The breakfast at our luxurious hotel was not quite what I expected: cereal, muffins, toast and coffee, served on foldable tables in a conference room. But since they didn't have a restaurant, it was okay.
Of course, we had to check out because we couldn't (and didn't want to) afford an executive suite any longer. At 10 am it was no problem to get a "normal" motel room in Moab for the next two nights.
After a bit of shopping, we went to Arches National Park at noon.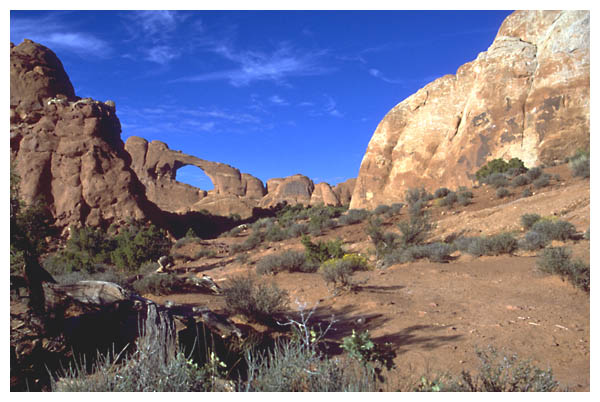 The Balancing Rock was our first stop. I have to admid that it doesn't look as fragile from the other side, but it's impressive nonetheless. We were told that it used to have a little companion, another balancing rock, but it fell off its base a few years ago. Nobody knows when this one will fall down…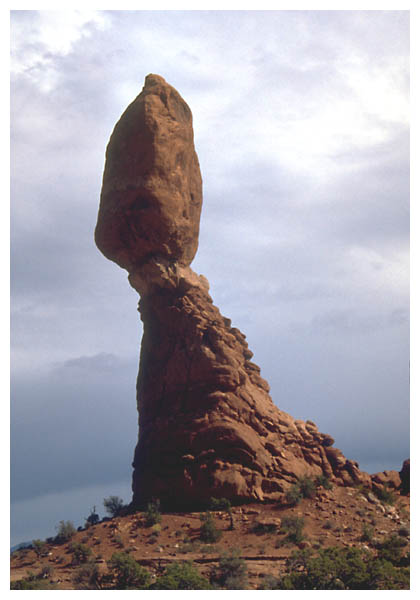 Then we went on to the Windows. We walked up into North Window and marveled at its size and the view. There was a family with maybe eight or so children, and the parents wanted a picture of their whole family. Some other tourist volunteered to take it, but it took some time until all children were assembled and arranged. I guess they got a picture of the whole North Window with some tiny people inside, and maybe they can guess who is who.



Anyway, it was fun watching them – it seemed the children enjoyed themselves a great deal!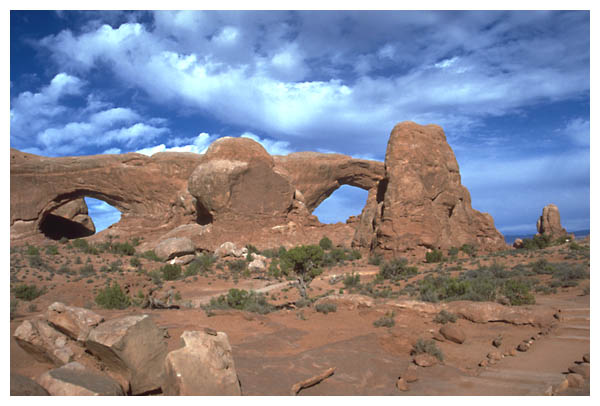 Opposite of the Windows, there's Turret Arch with the "Hole in the Wall" – it's the tiny one on the left. The turret itself is only partly visible on the left.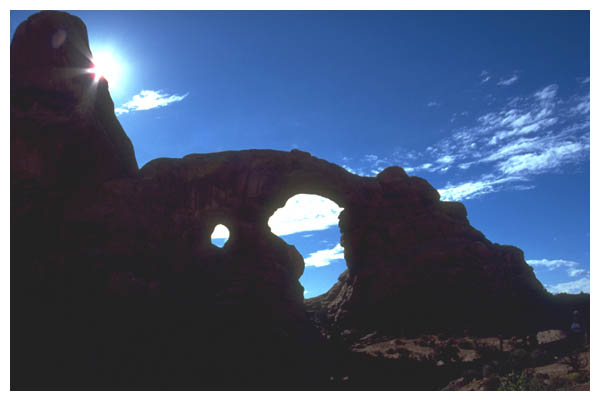 We walked the loop trail that leads around the Windows, but they are only accesible from the side facing the park, and because of that we couldn't take any pictures of other arches through one of the Windows. What a pity!
From the Windows, we drove all the way to the northern part of the park which is called Devil's Garden and has lots of "slices" of rock that stand upright and form a huge maze. It was late in the afternoon already, so the rocks glowed red in the light of the sun. Beautiful!
Then we tried to reach the most famous arch of all in time for sunset: Delicate Arch. But there were two problems: We couldn't get there in time, and there was no sunset because it had gotten all cloudy.

Instead of taking the long walk right up to Delicate Arch, which is about 3 miles (4.8 km), we went to Delicate Arch Viewpoint which is accesible by car. We walked some 100 yards (100 m) and climbed on a little hill to get a better view, but the sun decided not to peek through the clouds again. So the sunset was everything but spectacular. Here's our picture: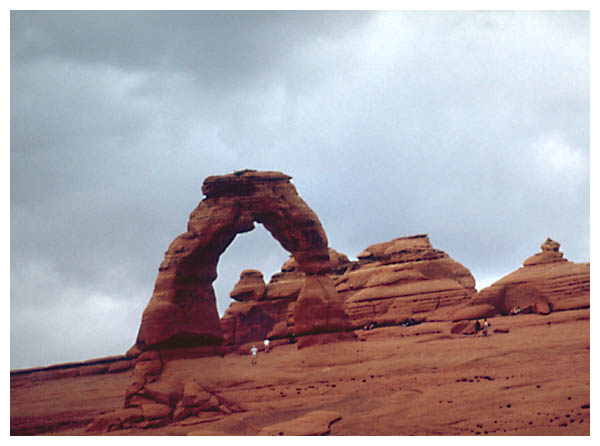 You can't even see how delicate the arch actually is. But even on this picture, it looks a lot more fragile than the Windows, for example.
We called it a day, went back to Moab for dinner and planned the next day and our trip to Canyonlands National Park.
---
Previous | Next

Index | Camera | Map
1 | 2 | 3 | 4 | 5 | 6 | 7 | 8 | 9 | 10 | 11 | 12 | 13 | 14 | 15 | 16 | 17 | 18 | 19 | 20 | 21 | 22 | 23 | 24 | 25 | 26 | 27 | 28 | 29 | 30